Kermit the Frog, Walter and Miss Piggy Talk Music and Mayhem in 'Muppets Most Wanted' Interview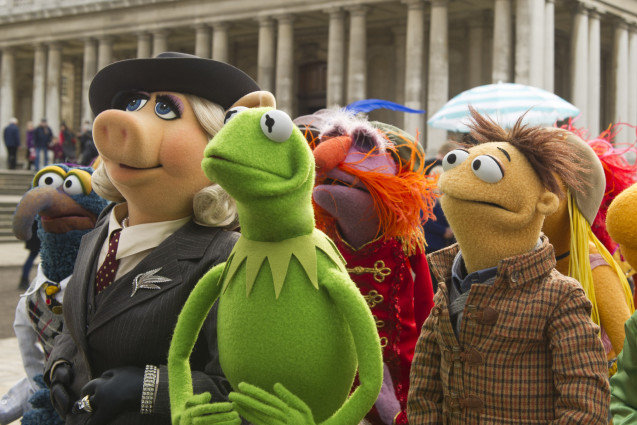 Disney Enterprises
In their 2011 film The Muppets, the gang got back together to save their old theater from a maniacal oil tycoon. This March, they're re-uniting once again, and they're taking their show on the road with Muppets Most Wanted. Specifically to Europe, where Kermit's striking resemblance to the jewel thief Constantine derails their tour and gets them mixed up in an international crime spree. After Kermit gets arrested and thrown into a Russian prison, it's up to the Muppets to try and save their leader and foil Constantine's evil plans. Complicating things are Tina Fey's prison warden Nadia, a sinister tour manager played by Ricky Gervais and Ty Burrell as an Interpol agent who may find dealing with the Muppets harder than catching a criminal. 
Muppets Most Wanted will pick up right where the last film left off, saying, "The end of that film is kind of the beginning of this film and so the opening number of the next film is a great number that I actually am a part of with all the other guys." And that's just the very beginning of what promises to be a massive, music-packed spectacle.
Flight of the Concords star Bret McKenzie is back as well, with brand new numbers that are sure to be just as catchy as "Man or Muppet." Walter revealed that the new score is "incredible," and that he feels McKenzie has "topped himself." And while neither he nor Kermit have a solo number this time around, they did get to take part in a lot of the big song-and-dance scenes. Miss Piggy, meanwhile, is rumored to have plenty of diva moments in this new film; Kermit estimated that she had about six musical numbers. And while she wouldn't confirm if she did indeed get to sing the bulk of the score, she did reveal that there was one song that McKenzie wrote especially for her, which she described as "an old dance hit" that would have everyone in the theater grooving along. The song Kermit's most excited for, however, is actually sung by Fey when he first arrives at her prison: "she sings a great song called 'The Big House' about welcoming me to prison" that reveals just how much Nadia loves her job. Walter also agreed that it's a song not to miss, and added that Fey "sings like a nightingale." After all of the musical numbers that were featured on 30 Rock, we really shouldn't be surprised. 
Unfortunately for Muppet fans who are hoping for another rendition of their most famous song, Kermit has some bad news for you, revealing "We don't do 'Rainbow Connection' in this movie."  Also gone? Much of Walter's whistling, a special talent that he discovered in last film's eleventh hour. He explained the reason it isn't a large feature of the film by remarking "You don't wanna repeat yourself, right?" That seems to be a big theme for this new film, which breaks away from much of the warm sentimentality of the last film in favor of zany adventures.
And there will be plenty of adventure, including a moment where Walter is forced to jump from the top of one moving train to another in order to help rescue Kermit, who described his own sections of the film as "very dramatic." The Muppets even got the chance to do their own stunts for the film, although Miss Piggy's favorite one is a bit less dramatic than Walter's: "I love the stunts where put on a beautiful white gown and I walk down an aisle." Before you rush out and buy the happy couple a wedding gift, though, Kermit warns that the scene is "not what you think."
Although they wouldn't say much about that rumored wedding, one thing they were willing to talk a great deal about were the big names they've gotten to star in this film. Both Walter and Kermit enjoyed working with Fey the most, as they both had "big fun with her." And it seems like their scenes together may have left Walter with a bit of a crush, as he described her performance as "really terrifying and sexy at the same time." Another star whose part is sure to excite audiences is Burrell, who Kermit promises is "extremely funny" in his scenes with Sam the Eagle. Piggy, meanwhile, most enjoyed her scenes with Gervais, whom she described as "a very funny man and one of the best extras I've ever worked with." The comedian is playing Dominic Badguy, a character Walter described as "really two faced and completely charming but sinister," before adding that he greatly enjoyed their time together on set.
But those aren't the only stars who are set to pal around with the Muppets this time. After all, it wouldn't be a Muppets movie without a slew of celebrity cameos. Said Walter "There are a surprising number.  Even for a Muppet movie." Fans of the gang will also be excited by some returning faces, including Pepe the King Prawn, who Walter revealed has "a bigger part than [in] the last one," and some friends who haven't popped up since the Muppet Show days like Annie Sue Pig, Link Hogthrab and Lou. "We try to bring the whole crew back again," says Kermit.
Muppets Most Wanted arrives in theaters on March 21.