There's a Mystery Afoot in 'Muppets Most Wanted' Trailer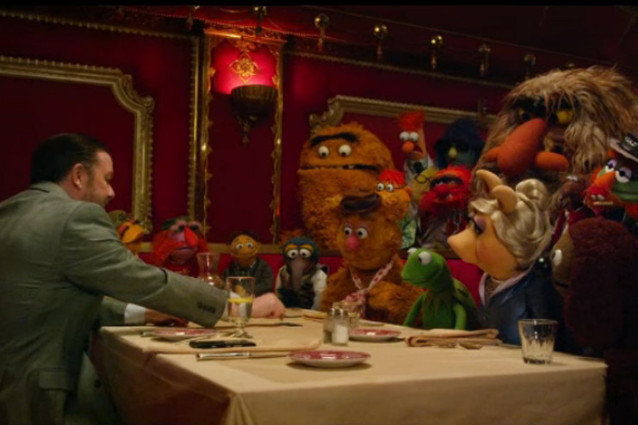 Walt Disney Pictures
The Muppets are back for another celebrity-filled romp that will see Kermit locked up and replaced by to a shifty frog look-a-like.
In the latest trailer for Muppets Most Wanted, Kermit finds that he bears more than a passing resemblance to Constantine, a frog criminal mastermind with a mole on his face. Constantine engineers a plan that get's Kermit thrown in the pokey, while Constantine assumes the muppet's identity —he just has to get rid of his pesky foriegn accent first. Constantine's lackey, Dominic Badguy ("Badguy" is French, don't worry about it. Definitely not evil) poses as the Muppet's tour manager, and the gang carries on while wondering why Kermit is acting so un-Kermit-like.
Joining the Muppets are Ty Burrell, and Interpol agent who spends time badge measuring with Sam the Eagle (size does matter), and Tina Fey who play's Kermit's domineering prison guard that has no time for Kermit's pleas of innocence. There's also a number of cameo appearances from stars like Celine Dion, Ray Liotta, Salma Hayek, P. Diddy, Cristoph Waltz, and a sad looking Danny Trejo. The trailer is bursting with charm and humor, and we can't wait to dive back into the Muppets when the film releases next year.