The Teen Survival Movies That Led Up to 'Divergent'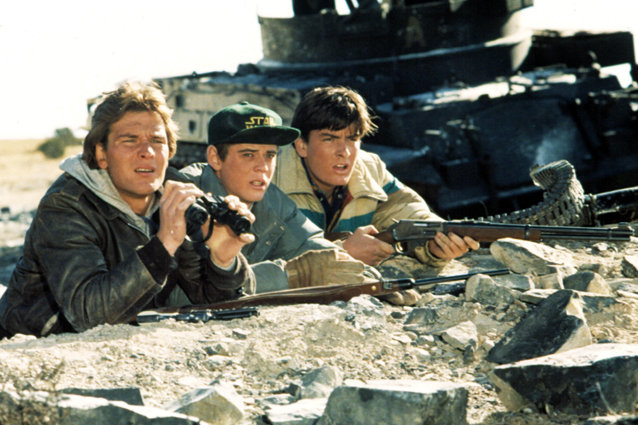 MGM via Everett Collection
With Divergent is hitting theaters on March 21, the theme of teens fighting for survival on the big screen is at the forefront of our minds. It's one that has resonated through the decades in cinema, and we're taking a look at some of our favorite examples.
I'm talking about the 1984 original, not the forgettable reboot. As someone who was born in the 1970s and was growing into teenager-hood in the 1980s, the sight of those parachuting Russians in the film's opening made me want to crawl under my blankets and hide forever. Ronald Reagan and Mikhail Gorbachev's steps toward Glasnot years later couldn't come fast enough. This was a bloody movie that featured many up-and-coming stars like Patrick Swayze, Charlie Sheen, and C. Thomas Howell. The film hit towards the end of the Cold War, allowing USSR to play an effective Hollywood villain. The film saw America become a Russian state; the band of teenagers who fought back against the Red Menace made all of us look like sad-sack couch potatoes. To this day, you can yell "Wolverines!" at any person over the age of 35 and you'll much more than likely get a knowing nod back… and not just on the campus of University of Michigan.
By now, nearly everyone in the world knows who Katniss Everdeen is. For the very few uninitiated, Everdeen is a teenager who has to go and hunt other teenagers in a dystopian future that takes its cues from The Running Man more than anything else. Everdeen is tough, resourceful, cunning, and also one hell of a shot with a bow an arrow. She shows people that teens can take matters by the horns and do what it takes to win, and still not entirely sacrifice their humanity. There are those why decry the things she does, but in the long run, she is a good role model for being a strong female lead, which is something the movies have been lacking quite often. Everdeeen isn't one to quake and let a male take over or win or make her compromise herself. Yes, this series of movies shows kids murdering other kids, but the underlying message beneath is one that can't be ignored either.
Released in Japan in 2000, the movie comes from a different culture and as such institutes different tropes into its school-aged characters. The film centers around the students of a ninth-grade class that are made to fight each other to the death. Even more brutal than the American films, it shows what people are capable of when they have their backs to the wall and are being forced to commit atrocities in the name of their own government. I'd be seriously scared to get a note from my son's school in the future about something like this.
What kid hasn't wondered about the true demonic motives of his or her teachers? This 1998 horror/thriller boasts a cast full of comedic powerhouses like Bebe Neuwirth and Jon Stewart, as well as heartthrobs like Josh Hartnett and Jordana Brewster… and, yes, Usher. Running on the theme of teens versus adults, The Faculty becomes an intense and interesting cinematic experience. Beyond its horror aspects, the uniqueness of the overall movie made it better than something like Halloween or Friday the 13th. If you haven't seen it, it'll make you look at the Daily Show host in a totally different light.
The original teen survivor movie, adapted in 1963 from William Golding's award-winning novel. We meet a group of school kids who get stranded on a desert island, and initially band together to survive… before anarchy starts to take over as the veneer of civilization gets stripped further and further in the movie. It's quite harrowing, and a sobering reminder of what can happen when we let the rules of society slip away. And if you've somehow managed to get this far without reading the novel, we highly recommend it. I read it in seventh grade, and had this weird thing about conch shells for a while after that.
Divergent hits theaters March 21. You can check showtimes and purchase advanced tickets here.