'My Week With Marilyn' Begins Filming In London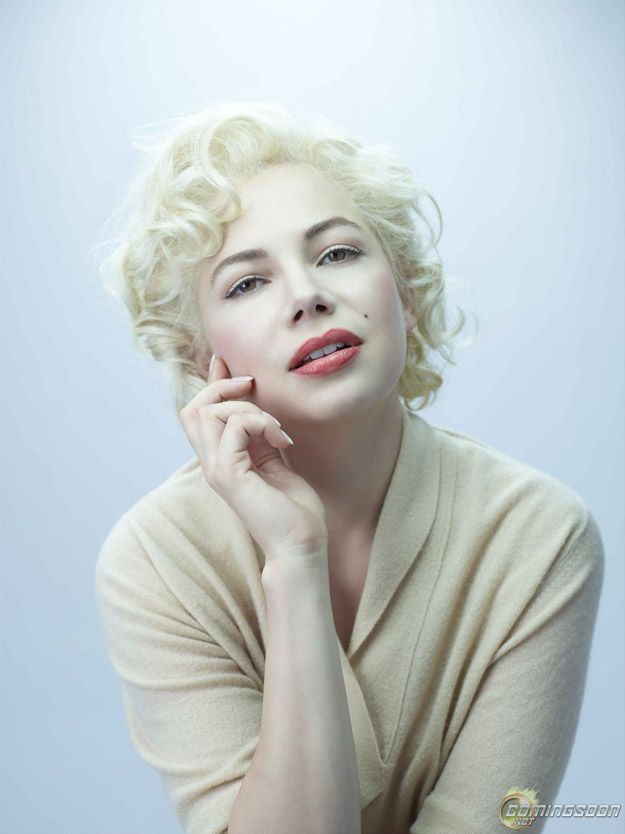 The cameras are rolling on the long-awaited Marilyn Monroe movie. My Week With Marilyn has started its 7 weeks of filming in London, and we can finally get a look at how Michelle Williams is managing to channel the Hollywood icon.
Williams wasn't my top choice, but she wears the look well. All we've got is a single photo to go by, but she's obviously studied the beloved actress' posture and body language and has managed to embody her at least a little. (But honestly, if you put Christina Hendricks in a blond wig, she is Marilyn; she's even got the whole bird-like whisper thing down. We can't always get what we want though, can we?)
This little window into Marilyn's life follows her on a summer trip to England to film The Prince and the Showgirl with Laurence Olivier and take a simultaneous honeymoon with her then-husband, playwright Arthur Miller. She meets young Colin Clark, an Oxford grad working as an assistant on the film, and when Miller returns to the states, she and Clark escape the Hollywood life together for a week of good ol' British frolicking. The film is based off of a previously missing chapter from Clark's diary that chronicled their week together – hence the film's very creative title.
Despite my minor casting gripe, the entire ensemble seems to be an able bunch, including Williams. Relative newcomer and total pretty boy Eddie Redmayne plays the mancandy (Clark) and Kenneth Branagh portrays Sir Laurence – he's taking on one of the greatest actors of all time? No sweat for someone as self-assured as Branagh. Emma Watson (Harry Potter films), Dougray Scott (Desperate Housewives, Ever After), and Julia Ormond (Legends of the Fall) also nabbed parts in the buzzworthy film. And since BBC Films is involved, of course Judy Dench has a role as well. (Not that I'm complaining – you've got to love Dame Judy.)
The biggest snag I see is that the film's director, Simon Curtis, has never dabbled in full length films before, though he's enjoyed great success on the small screen with a slew of BBC programming. Hopefully he can figure out a way to speak to American audiences as well as his fellow Brits or the film may have to depend on the hum of Hollywood chatter to get audiences to the theater.
Source: ComingSoon