Nab the 'Tower Heist' Blu-ray/DVD this February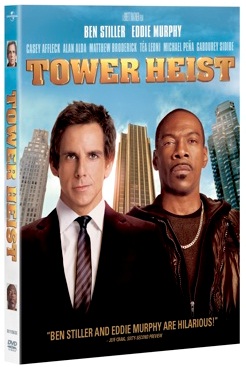 This Fall, America was graced with a coming-together of some of comedy's great figures: Ben Stiller, Eddie Murphy, Matthew Broderick, Alan Alda and many more stars of past and present joined forces to bring us Tower Heist, a comedy particularly close to the hearts of many of us in this trying economic climate. Now, two months after its theatrical release, we hear the news that Tower Heist is releasing on Blu-ray/DVD this February.
Tower Heist, directed by Brett Ratner, will take Blu-ray/DVD form with a surplus of bonus features and options. You can enjoy a blooper real, audio commentary, and even two alternative endings, plus a whole lot more. Check out the rest of the features below, and catch Tower Heist on Blu-ray/DVD on Feb. 21.
BONUS FEATURES
Blu-ray/DVD Bonus Features
Two Alternate Endings – not seen in theatres!
Hilarious Deleted & Alternate Scenes
Gag Reel
Plotting Tower Heist—Following the structure of a classic caper movie in three acts, director Brett Ratner, producer Brian Grazer and the entire cast bring this heist film to a whole new level. Viewers will learn how the project started, as well as meet the screenwriters and cast. This exclusive feature reveals the secrets of the set design, special effects and more, including what it took to create the iconic sequence involving Steve McQueen's car!
Feature Commentary with director Brett Ratner, editor Mark Helfrich and co-writers Ted Griffin & Jeff Nathanson 
Blu-ray Bonus Features
Tower Heist Video Diary – Director Brett Ratner takes fans through the filmmaking process with these personal video production diaries from the set.
U-Control:
-Picture-in-Picture – featuring pre-visualization and storyboard comparisons of some the film's most exciting scenes.
-The Music of Tower Heist
pocket BLU™ App: The popular free pocket BLU™ app for smartphones is now even better with newly updated versions for iPad®, Android™ tablets, PC and Macintosh computers, with features made especially to take advantage of the devices' larger screens and high resolution displays.
-Advanced Remote Control: A sleek, elegant new way to operate your Blu-ray™ player. Users can navigate through menus, playback and BD-Live™ functions with ease.
-Video Timeline: Users can easily bring up the video timeline, allowing them to instantly access any point in the film.
-Mobile-To-Go: Users can unlock a selection of bonus content with their Blu-ray™ discs to save to their device or to stream from anywhere there is a Wi-Fi network, enabling them to enjoy content on the go, anytime, anywhere.
-Browse Titles: Users will have access to a complete list of pocket BLU™-enabled titles available and coming to Blu-ray™. They can view free previews and see what additional content is available to unlock on their device.
-Keyboard: Entering data is fast and easy with your device's intuitive keyboard.
-And with UNIVERSAL'S SECOND SCREEN, viewers can enjoy an innovative and interactive viewing experience, that allows them to control, interact and explore Tower Heist with groundbreaking new features right on a networked tablet or computer, in synchronization with the movie on the television screen! While the movie plays, experience features such as:
   –Flick View: Interact with the movie; move content from the Tablet to the TV screen; and compare storyboards, animatics and other executing content by "Flicking" them from on their tablet to their TV screen, simply by gesturing their fingers upwards on their tablets.
   –Behind the Scenes w/Flick View: Viewers get an all access look at the making of the film featuring interviews with cast and crew.
   –Storyboards w/Flick View: Viewers will be able to take a closer look at the storyboards created for some of the amazing sequences in the film.
   –The Music of Tower Heist—Songs from the Tower Heist soundtrack are highlighted with the option to add to a playlist and purchase.
BD-LIVE™ – Access the BD-Live™ Center through your Internet-connected player to access the latest trailers, exclusive content, and more!