Naughty or Nice: A Santa Claus Movie Showdown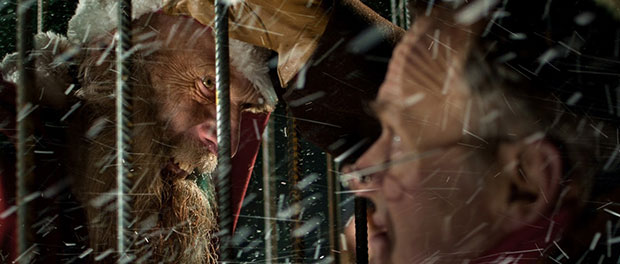 And so we've arrived at the most wonderful time of the year. Well, the most wonderful time of the year next to Halloween of course. Happy holidays to all!
As we close out Naughty or Nice here at Hollywood.com, it seemed only fitting to turn our focus to the big guy himself; the jolly old elf in the bright red suit. No, we're not referring to that corpulent, overzealous Kansas City Chiefs fan in your neighborhood. Get the milk and cookies ready, because Santa Claus is coming to town twice today.
Nice: Rare Exports: A Christmas Tale
Director: Jalmari Helander
Cast: Onni Tommila, Ilmari Jarvenpaa, Jorma Tommila 
Plot: Finish reindeer farmers suffer a rash of attacks on their livestock. They set to work laying traps for wolves and other such wild predators, but one little boy believes the culprit to be far more sinister. Nearby construction crews are excavating what they have been told is a massive burial mound, but they could never have imagined the malevolent force they were foolishly unearthing.
The most notable connection between the two films under the merry microscope today is that they both deal with the origins of Santa Claus. Rare Exports takes a decidedly darker tact in its examination of Claus' past. It reaches into the myths held by some cultures that Claus was not always some sweet old gift-giver, or if he was, this was merely one facet of his occupation. His roots in fact intertwine Claus with a menacing wraith, a demon-like figure possibly linked to the pagan roots of Christmas rituals. Rare Exports shows Santa to be a horrifying monster whose arrival is nothing to be denoted by celebration.
The interesting thing about Rare Exports, however, is that despite its macabre approach to the story of Kris Kringle, it is not really a horror film. In fact, there is a lot of humor and heartfelt whimsy woven into the ominous story. A good deal of the humor comes from the fact that we are introduced to most of the plot points through the eyes of a small child. Little Pietari experiences quite the comical evolution in the film from a wide-eyed, sprat who believes wholeheartedly in good ole St. Nick, to being utterly terrified that evil Santa will abduct him in his sleep, and ultimately to becoming a pint-sized action hero. His little helmet and pads may make him look like a crash test dummy used especially for field-testing toboggans, but young actor Onni Tommila plays even the most exaggerated hero quip with impressive sincerity.
But it is the ending of Rare Exports where the film derives most of its comedic effect as well as its most memorable visual signature. The hideous horned creature, Santa himself, is aided in his wicked plan by not one, but an army of feral old men with white beards. These elderly minions are left stranded once the beastly St. Nick is defeated, and the solution cooked up by these poor farmers to not only deal with the octogenarian surplus but also recoup the financial losses of their reindeer herds is uproarious. To say more would be to spoil the fun, and we certainly wouldn't want Santa after us for that.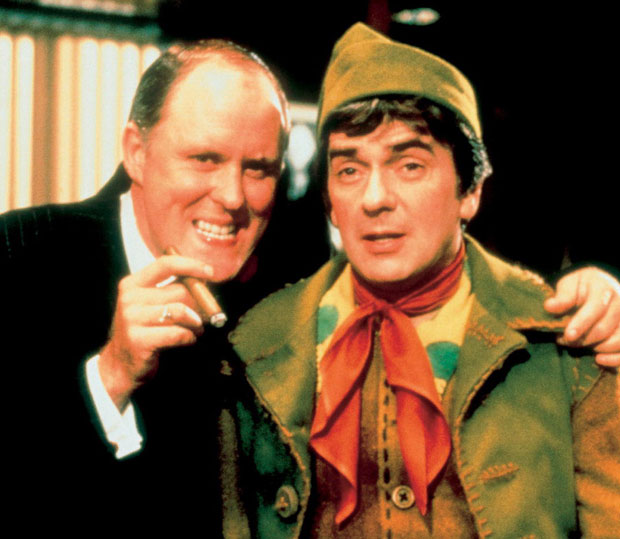 Naughty: Santa Claus: The Movie
Director: Jeannot Szwarc
Cast: Cast: David Huddleston, Dudley Moore, John Lithgow
Plot: In the 14th Century, a toymaker and his wife are stranded during a snowstorm and seem doomed to perish. Suddenly, they are whisked away to a magical land at the top of the world and saved by a race of little people called Vendequm. The toymaker is tasked with making gifts for all good children on the planet that he will deliver each year in his sleigh. Years later, one of his top elves will strike out on his own and create nothing but problems for himself as well as Santa.
Santa Claus: The Movie is one of those epic flops; a failure as legendary as its subject matter. It was "presented," though apparently not officially produced by Superman honcho Alexander Salkind, and is only slightly less embarrassing than Superman III. Like Rare Exports, it explores Santa's origins, and indeed both films exhibit a great deal of reverence for the character, but instead of utilizing myth, it employs a heavy dose of winking and nudging to lend fictive roots to each of Claus' notable tropes: the list, the suit, etc. This ham-fisted cloying is where the movie will begin to frustrate you as a viewer. Because even for its substantial budget and its stellar cast, Santa Claus: The Movie is not an eighth as strong in its artistry and/or execution as is Rare Exports.
One of the biggest problems with Santa Claus: The Movie is also simultaneously where these two films differ and are unified. Like Rare Exports, despite Santa being the central figure, a great deal of the responsibility for saving the day falls to the children in Salkind's film. A young orphan, taken under Santa's wing, must stop the well-meaning elf Patch (Moore) from delivering a Christmas treat that, unbeknownst to him, will ruin the holidays for a great many children. The issue here is that this plot device is a function of the bipolar nature of SC:TM's story, no pun intended. Half the movie is about the background of Santa, and then we are shifted to a tired, cheese-coated elf cautionary tale.
This ancillary story feels like nothing but padding and the disjointed plot structure contributes significantly to Santa Claus: The Movie's shortcomings. Rare Exports works the young hero naturally into the story, making him inextricable from the narrative progression. The little orphan boy in Salkind's movie could not be more shoehorned into the proceedings. It makes it much harder for us to care about this character when his appearance is forced and only serves to wrap up what is far and away the lesser of the two stories.
Both of these Santa sagas are available on Netflix's Watch Instantly service. Check them out for yourself and see which one you'd want to add to your list.
[Photo Credit: FS Films Oy; Calash]
Follow Matt Patches on Twitter @misterpatches
More:
Naughty or Nice: 'Die Hard' vs. 'Reindeer Games'
Naughty or Nice: 'Kiss Kiss Bang Bang' vs. 'The Magic Christmas Tree'
Santa: The Character That Works in Any Type of MovieYou Might Also Like:

20 Hot (and Horrifying) Movie Sex Scenes