Aaron Paul Channels His Inner Walter White in 'Need for Speed' Trailer
Where does Jesse Pinkman go after he's Breaking Bad days are over? He becomes a gifted street racer, of course. In the first trailer for Need For Speed, Aaron Paul races his heart out as Tobey Marshall, a small-time mechanic who is wrongfully imprisoned by his business partner Dino Brewster, (Dominic Cooper), seeking revenge by participating in a New York-to-L.A. cross-country race.
The trailer zooms by in a symphony of crunching metal and orange sparks with operatic music swelling in the background. It's all very pretty and thrilling, but perhaps a bit too heavy on the drama. This is a movie about cars going really fast and crashing into each other (and it's based on a video game). There's no reason to overdo the gravitas. There's even a silly voiceover with Aaron Paul spouting lines like:
"I do not fear, for you are with me."
"All those who defied me shall be ashamed and disgraced."
"Those who wage war on me will perish."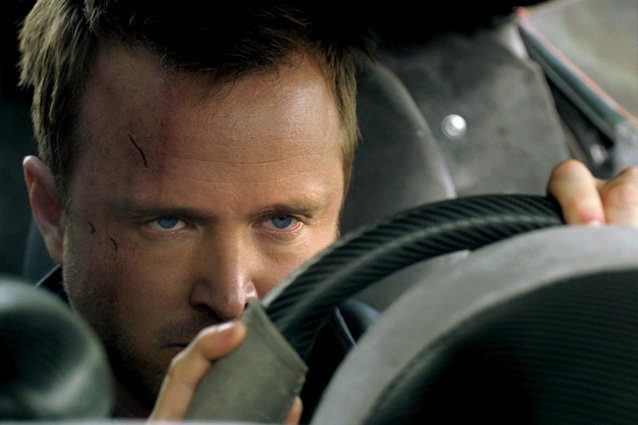 These lines sound less like a scorned street racer in an action movie and more like a certain methamphetamine kingpin. Lines like "Those who wage war on me will perish" sound like the kinds of things Walter White would scream before running over a couple of drug dealers, or yelling about how much you should stay out of his territory. If you close your eyes and listen, you can almost see Walter White careening down a twisty mountain highway in his olive green Aztec, throwing baggies of blue meth at the other racers Mario Kart style.
We'd like to think that this new Need For Speed film takes place after Breaking Bad in some alternate reality where Jesse Pinkman gets his identity changed, and becomes a street racer who learned all of his insults from his high school chemistry teacher. But what we're really in for is probably just a melodramatic car crash movie.
More:
Top 5 'Breaking Bad' Memes
Our Predictions for Saul Goodman 'Breaking Bad' Spin-Off
Michael Keaton Will Give 'Need for Speed' a Dose of Crazy
---
From Our Partners:


A Complete History Of Twerking (1993-2013) (Vh1)


15 Stars Share Secrets of their Sex Lives (Celebuzz)