'Neighborhood Watch' Swaps Title in the Wake of Trayvon Martin Case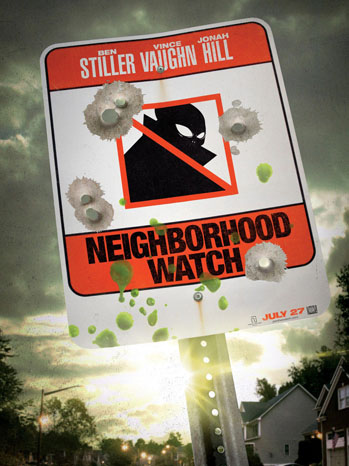 Hollywood's had its fair share of bad timing situations, from Spider-Man's Word Trade Center teaser trailer to a bizarre zoo-related death right around the release of We Bought a Zoo. This latest movie to strike up controversy is this summer's Neighborhood Watch, a new comedy starring Ben Stiller, Vince Vaughn, and Jonah Hill, which focused on — you guessed it — a neighborhood watch group who run into some extraterrestrial invaders. While there weren't any otherworldly aliens offended by the content, 20th Century Fox came under fire in the wake of the much-publicized Trayvon Martin murder case, the suspect George Zimmerman being a member of his own local neighborhood watch group. It probably didn't help that the first teaser also featured a shot of Jonah Hill mimicking a gun and shooting someone out of car. To avoid any moves of bad taste, the studio has decided to take action before their release: they're changing the name.
The movie will now be titled The Watch, a slightly more ambiguous label that steers the movie clear of any association. But Fox' press release also confirms an interesting choice: they're not wavering on the July 27, 2012 release date. Confident that some of the biggest names in comedy fighting off alien beings won't strike any uncomfortable chords with viewers, Fox is trucking along as planned.
Good idea or bad idea? If the movie's hilarious, maybe it doesn't matter. We'll find out when The Watch lands in theaters in just a few months.
Update: You can also check out the new red band trailer for the movie!
Find Matt Patches directly on Twitter @misterpatches and remember to follow @Hollywood_com!
More:
Neighborhood Watch, Trayvon Martin and Bad Timing for Hollywood
Oscars Exclusive: Doug Jones on VFX, Acting Nominees, 'Neighborhood Watch', 'Silver Surfer'[HitFix]