Harrison Ford Gets Mad at Ron Burgundy in New 'Anchorman: The Legend Continues' Trailers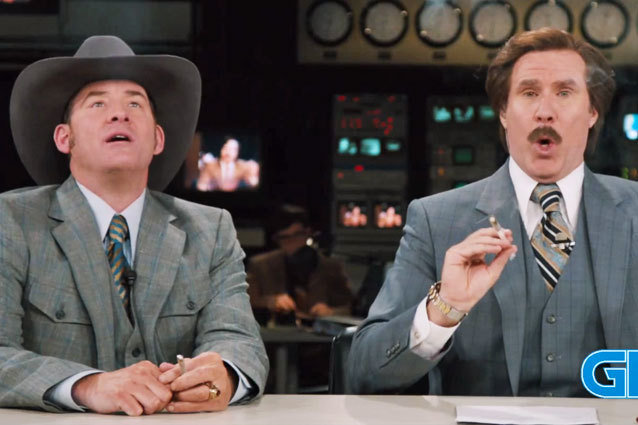 paramountintl/YouTube
After weeks of our hearts and funny bones being toyed with a "meh" teaser trailer and an awkward car commercial starring Will Ferrell, we were starting to worry that we'd never see another actual Anchorman: The Legend Continues trailer and that the whole thing was a gigantic hoax to try and get us to buy a new Dodge. Thankfully, director Adam McKay knew he couldn't hold his loyal Anchorman fans at bay for much longer, and this morning two full trailers for the much anticipated sequel were released. And the best news? The two trailers share hardly any of the same footage.
Trailer #1: 
Well, in expected Anchorman fashion, Brick thinks he's dead, Ron doesn't understand how cruise control on an RV works, the gang interacts with what seems to be its first gay man and black woman, everyone dances, and Ron gets beat up… oh, and Brick freaks out when he thinks his legs have gone missing while using a green screen.
Trailer #2:
In the international trailer, there are only two repeat scenes (the green screen and the gay jokes), and it's packed with even more classically (raunchy) Anchorman jokes than its U.S. counterpart has. We're talking smoking crack on camera, Harrison Ford calling out Ron for being an awful anchor, and a cabinet full of ineffective condoms. Yup, Anchorman is back in full force.
Let's all cross our fingers and hope that we haven't just seen all of funny bits of the movie in these two trailers.
Anchorman: The Legend Continues hits theaters Dec. 20.