New 'Frankenweenie' Trailer: More Bark, More Bite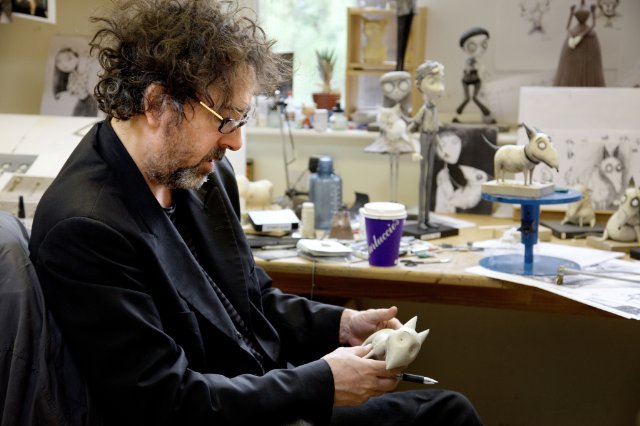 Frankenweenie,Tim Burton's return to his stop-motion roots, has another trailer that you can shake a stick at (here, boy! Roll over!), because, you know, dogs like sticks and this movie is about an adorable little dog! Only this dog is still alive even though nature didn't want it to be that way. Man cannot survive without his best friend, you guys.
In the trailer we see the story more expanded than in the previous clip. More characters are introduced, which makes sense considering the storyline includes that people start to go nutters after Frankenweenie is resurrected. Turns out that throwing lightning at dead things has become all the rage in this town! How trendy. Undead: not just for dogs!Igor Edgar, the small, cannot-keep-a-secret schoolmate of Victor is way more endearing and precious than any Igor I've ever seen, even if he does totally lie and blow Victor's cover. Bad little hunchback, bad! (But can you blame him? I would not keep a risen-from-the-dead dog a secret from anyone.)
Burton's signature whimsy and dark humor are back in full force–because nothing says 'adorable macabre' like man's best friend, only undead. Check out the newest trailer below.
Looks like a playfully creepy good time, no? Just don't get any ideas and think it's OK for you to reanimate your pet gerbil Snuffy. We don't need a zombie army of animals on the prowl to haunt my nightmares for real.
Frankenweenie opens in theaters October 5th, 2012 and stars the voice work of Charlie Tahan, Winona Ryder (Wino forever!), Martin Landau, and the fantastic Catherine O'Hara.
Follow Alicia on Twitter @alicialutes
More:
'Frankenweenie' Trailer: Tim Burton's Stop-Motion Magic
'Frankenweenie' Set Visit Report Pt. 1
Tim Burton's 'Frankenweenie': A Rare Look Through His Puppet-Making Workshop — PICS