Top Shelf:

The Lord of the Rings: The Motion Picture Trilogy – Extended Editions (New Line Cinema, $69.99)
The Movies: As with most new, hotly anticipated Blu-ray box sets of beloved franchises, reviewing the movies in this space is a little redundant. When it comes to Lord of the Rings, however, it's positively pointless. Your allegiance for or against the films is likely to never be changed, that's just the way it goes when it comes to properties so epic in both scope and popularity that everyone has seen them at least once, if not twice. If you somehow haven't seen the films at this point, I kindly ask you to cast yourself into Mount Doom, because you are pure evil.
Instead of raving or ranting about the films (we'll save that for tomorrow's MindFood), let's talk about the first thing on everyone's mind when they hear The Lord of the Rings Extended Edition Blu-ray box set: How does it look and sound? In a word, impressive. All three films have sound mixes so strong and robust they'd give a deaf person an eargasm. This is the kind of Grade A material that must be like pornography to sound mixers. Unfortunately I can't say videophiles will be enjoying such perfection.
Honestly, though I have an incredibly discerning eye and am anal about home theater presentation, I couldn't tell you what the difference is between the Extend Edition Blu-ray quality and the Theatrical Blu-ray quality for one simple reason: I haven't seen the theatrical Blus. I can, however, sum up the controversy surrounding this new EE set versus the previous Theatrical Edition Blu-rays. While the rest of the films were fine, the TE release contained a transfer of Fellowship of the Ring that almost universally disappointed fans thanks to garish amounts of DNR (Digital Noise Reduction), resulting in an overly crisp and inorganic image. However, for the EE Blu-rays, Fellowship of the Ring got a brand new HD transfer that is thankfully free of the visual blight that is DNR.
However, though Warner Bros. managed to correct the DNR problem, they also altered the color timing ever so slightly throughout the film. If you're not familiar with color timing, it's one of the most important and meticulous steps of the filmmaking process. It, more than camera work or editing, determines the overall look of a movie. If the color timing on a home video release of a movie differs from previous releases, be they theatrical or DVD, the whole movie comes with a nagging "something about this doesn't look quiet right…" feeling. In the case of Fellowship of the Ring, the new EE transfer has a slightly greener tint to everything. (Note: Two Towers and Return of the King do not suffer this, or any DNR-related problems and look absolutely dynamite.)
Now, when I say slightly, I do mean slightly. If you're not the kind of fan who has seen FOTR repeatedly, odds are you probably won't even notice. The movie is so green overall that a slightly greener hue to clothing or skin is, 98% of the time, so subtle it's unnoticeable. However, if you're the kind of fan who has seen FOTR a number of times, it may rile you up a bit that, though the image fidelity is now immaculate, the movie somehow just doesn't look quite right.
The Features: Unfortunately a mostly negligible, occasionally noticeable twinge of green isn't the only thing about this new box set that will rile up die hard LOTR fans. Before getting to that, though, I want to make something abundantly clear: The amount of special feature content found on this box set is frankly staggering. If you were to actually watch all of the making-of materials and listen to the 12 (yes, 12) commentary tracks for the films, it would literally take you days. This box set contains every special feature a LOTR fan could ever desire.
Having said that, I find it particularly frustrating that the only NEW special features on this set are advertising materials for a new LOTR game. Every single other feature, all three days worth, is compiled from previous releases of the film and have NOT been given an HD upgrade here. And the real kicker is that not only do they look the same as they did when they were first produced years ago, but they're not even on Blu-ray; they're on DVD– Of this 15 disc set, the 9 special features discs are all DVD (even though they could comfortably fit on two BDs). That means 60% of this HD box set is in SD. Frankly, I think that's some BS.
Of course, if you don't own any of the previous LOTR releases, be they the EEs or the TEs, then paying $70 for the utterly intimidating array of special features here is a helluva steal. However, every LOTR fan is probably going to own at least one past release of the films, in which case they're overlapping on content here without getting an HD upgrade. Yes, it's awesome to have all of the special features in one place, but it does feel a bit like WB is taking advantage of fans here by going the easier route of simply compiling all of the series' goodies into one package without actually taking full advantage of the new medium's technical advantages. I can understand not giving behind-the-scenes footage an HD face lift, but at the very least they could have gotten rid of the need to insert nine different discs when one would have sufficed.
But again, I just want to reiterate that the content itself is phenomenal– easily some of the best (and most exhaustive) special features ever produced for a box set. I just wish that they had been better tailored for this particular box set, which is being touted as the set that rules them all.
Buy It If: This is where things get really tricky. I do genuinely believe that this is a Must Own Blu-ray box set, but I feel like the Must Own needs an asterisk at the end. Yes, it's got a mind-crippling amount of special features, but, they're not new special features. Yes, the movies have never sounded better, but they don't look as flawless as they should. If you don't already own past releases, buying this is a no-brainer imperative, but if you do own them…I think you can you take your time and wait to grab it when it goes on sale.
Middle Shelf:

Sucker Punch: Extended Cut (Combo Pack) (Warner Brothers, $22.99)
The Movie: Sucker Punch is an infuriating film. On the one hand, I wish more studio movies were this ambitious. On the other hand, it really is just a bad movie. Sure, it's possible to be entertained by parts of the movie, but as a whole, it's about as healthy as the undead steam-powered Nazis the film's band of psychiatric inmates/escorts/soldiers mow down during one of its four major set pieces.
The problem with Sucker Punch is that it knows what it wants to be (a hyper stylized girl empowerment action extravaganza with heart) but doesn't know how to actually be that. So instead we find a confused, messy movie that makes baffling bizarre decisions at nearly every turn. And since this is the Extended Cut of the film, we finally get to see a decision that was so bizarre it didn't make the Theatrical Cut: a song and dance number so mirthless it will make you cringe and reach for the remote.
There is one saving grace on this 17-minute longer cut however, and that's an additional scene between Baby Doll (Emily Browning) and the High Roller (Jon Hamm). It actually increases the impact of the ending so much I'm kind of surprised it was ever even on the cutting room floor.
The Features: The only special feature worth caring about on this disc is the Maximum Movie Mode, aka picture-in-picture commentary mode. Director Zack Snyder takes you on a guided tour of the production process, offering up a bevy of behind-the-scenes insights that, fortunately, make you realize that Snyder is a smart, sophisticated filmmaker who would be better served directing other people's scripts.
Buy It If: You're gonzo for freak-of-nature movies that probably should have been killed in the preproduction phase. If you're curious about just how shoddy the movie is, this is a rental at best.
All the Rest:

Barney's Version (Sony, $28.99)

Black Moon (Criterion, $29.99)

Camille 2000 (Cult Epics, $31.49)

Cowboy Bebop: The Movie (Image, $12.99)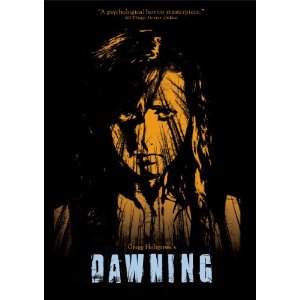 Dawning (Vicious Circle Films, $22.49)

Deep Ocean Experience – 3D (Filmic Art, $17.99)

Max Manus: Man of War (Music Box Films, $28.49)
This is a really poor cover for what is actually an above average WWII film about the Norwegian Resistance and its most daring saboteur.

Nature: Bears of the Last Frontier (PBS, $15.99)

The Nesting (Blue Underground, $15.99)

People on Sunday (Criterion, $29.99)

Season of the Witch (20th Century Fox, $22.99)
Just last week in New in Blu, I recommended just watching Centurion instead of The Eagle if you were interested in a legitimately good flick about a lost legion of Roman soldiers. I've got a similar counter-recommendation today: if you want to see a legitimately good flick about knights tasked by the church to hunt down a witch during the bubonic plague, skip the absurd Season of the Witch and watch Black Death instead. Hell, make a Netflix Watch Instantly double feature of both Centurion and Black Death. Then thank Magnet releasing for offering up the foreign films that should have taken the place of the US releases.

Sleeping with the Enemy (20th Century Fox, $23.49)

Stuart Little 2 (Sony, $14.99)

To the Ends of the Earth (Timeless Media Group, $15.49)

The Warrior's Way (20th Century Fox, $22.99)
You know a movie is going to be good when the biggest names on its cover are Rumer Willis and Kristin Cavallari followed by & Rob Schneider.

Zathura: A Space Adventure (Sony, $14.99)

Zazie dans le métro (Criterion, $29.99)