New In Blu: 'Toy Story 3', 'The Goonies' and 'The Sound of Music'
Welcome to the first edition of New in Blu, a new weekly column around these parts where we weigh in on the week's new Blu-ray releases. Since this is the inaugural run, you can no doubt expect the format and criteria to be tweaked in the coming weeks (in particular it will become more qualitative if review copies of the releases are made available) as we get a feel for how best to present it every Tuesday.
As of right now, however, all of the noteworthy releases are broken out into three categories: Top Shelf, Middle Shelf and Bottom Shelf. Maybe it's just the drinker in me that feels that's a rather self-explanatory way to group things, but for clarification on what each category means:
Top Shelf – Any elaborate collector's editions or box sets. [Note: These aren't necessarily the picks for the best releases of the week, rather they're just the sets that go above and beyond what normal Blu-rays do. Plus, they probably cost more.]
Middle Shelf – Standard releases of fairly well known movies available at a reasonable price.
Bottom Shelf – Titles that are either A) suspiciously cheap or B) being released with very little fanfare.
——————
Top Shelf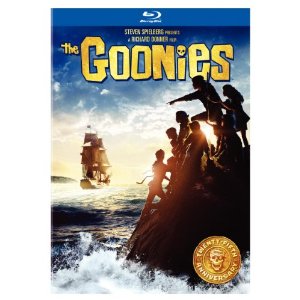 The Goonies ($34.99, Warner Home Video)
The Features: Cast-and-crew commentary, Making-of doc, "The Goonies 'R Good Enough" Music Video, Deleted Scenes, Trailers. Plus, a completely playable board game, storyboard duplicates, a replica 1985 souvenir magazine and more.
The Movie: The Goonies is something you either love or have no interest in and more often than not, the difference between the two seems to hinge on whether or not you grew up with the film. I personally love the hell out of it and consider it one of the best teen adventure movies ever made.
Verdict: Buy it if you're a fan. If you've somehow never seen The Goonies, find a friend who is and remedy that.