New Photos of 'Muppets' and 'Pirates'
Jason Segel? Johnny Depp? Fuzzy, cuddly muppets? This is my lucky day. Disney released photos from two highly anticipated fun films, Pirates of The Caribbean: On Stranger Tides and The Muppets; and those of us who are chomping at the bit to see the films when they finally grace our local theaters with their presence can enjoy a little amuse-bouche to tie us over for now.
First up a photo of the film's star and writer, Segel, palling around with Kermit and Miss Piggy. This was probably right before the joy of meeting Kermit in person brought him to big manly, crocodile tears. (This is a true story. I'll pause while you say "awwwww.")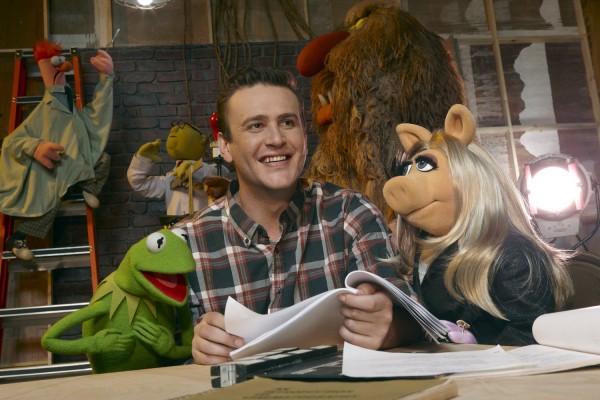 Also making the rounds on the interwebs is an unofficial set photo of
Amy Adams
dancing with her Muppets co-star, Segel. I guess there must be something so romantic about spending 12 hours a day with muppets. (The weird thing is that I'm mostly serious.)

Now for the action. Disney's released a few photos of their prized character, Jack Sparrow as he and his cohort, Captain Barbossa (Geoffrey Rush) navigate some murky waters and giant pieces of lettuce (?). Are you stoked? Well, that's awesome, but you still have to wait until May.