New 'Riddick' Teaser Trailer is 22 Seconds of Ass-Kicking Awesomeness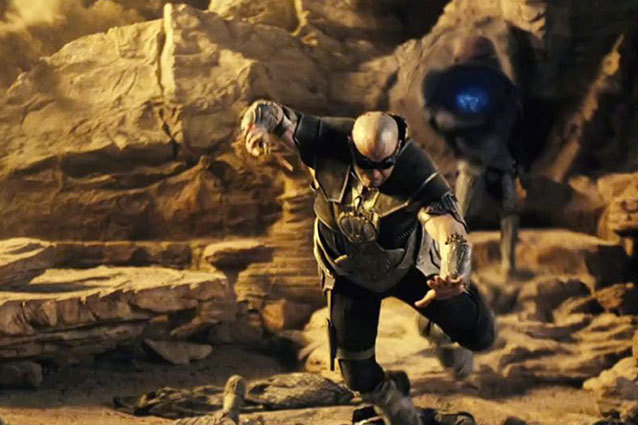 Vin Diesel just released the newest teaser trailer for Riddick and clearly, the old saying is right: Third time's the charm. The action star is back, reprising his role as antihero extraordinaire in the highly anticipated sci-fi film Riddick.
This is Deisel's third feature film in the Universal action/thriller saga and fans have been waiting for a glimpse of the September 2013 film for months. The actor rewarded his fans on Facebook with a teaser trailer, featuring 22 seconds with everything a Riddick fan could ever hope for: new and apparently highly dangerous creatures, Riddick's infamous "shined" eyes, and Diesel's dark voice taunting his enemies, asking, "You're not afraid of the dark, are you?"
RELATED: Check out Vin Diesel in These New 'Riddick' Pics!
In this third R-rated film the stakes are higher and the action is much much bigger. Taking place in the 28th century, Riddick has been betrayed and left for dead on a sun-scorched planet battling an alien race of predators and searching for a way back home. Soon bounty hunters from all over the galaxy descend upon Riddick, only to realize that our hero has become more powerful and dangerous than ever before.
Check out Riddick showcasing his most badass self in the clip below and then hit the comemtns with what you're most excited to see in the third film.
Riddick will hit theaters Friday, September 6.
Follow Leanne on Twitter @LeanneAguilera
[Photo Credit: Universal]
---
You Might Also Like:


15 Oscar-Winning Nude Scenes


Young Jack Black Is Totally Unrecognizable