New 'Star Wars' Writers Will Expand the Universe with Spin-Offs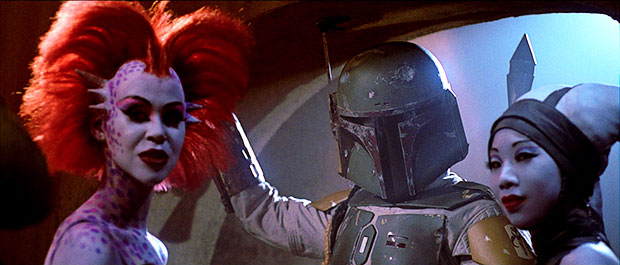 After Disney and Marvel's The Avengers crossed the billion dollar mark in worldwide grosses, thanks to years of multi-picture world building, everyone in Hollywood is scrambling to put together their own interwoven franchises. From Paramount's Tom Clancy adaptations to WB's Justice League, the name of the game is expanded mythology, and now it appears Disney wants its next gargantuan undertaking to follow the same path.
Insiders have revealed to The Hollywood Reporter that Disney has hired a team to write spin-off entries set in the Star Wars universe. Whereas Marvel shot solo films for their many heroes and collided them for the epic Avengers, the plan will be to take advantage of the sprawling universe far, far, away with new adventures not disconnected from the Skywalker saga of the previous trilogies.
Earlier this month, writers Lawrence Kasdan (Empire Strikes Back, Raiders of the Lost Ark) and Simon Kinberg (Sherlock Holmes, upcoming X-Men: Days of Future Past) were hired to pen screenplays for two upcoming Star Wars films. Disney, who absorbed George Lucas' LucasFilm and the legendary sci-fi property in October, currently plan to continue the franchise with Episode VII, VIII, and IX beginning in 2015. The unnamed eighth entry is set to be written by Toy Story 3 screenwriter Michael Ardnt, and the logical conclusion upon the news was that Kasdan and Kinberg would script the later two entries. Not so, says the new report.
"Expanded Universe" is a familiar term for Star Wars enthusiasts, with many minor characters and corners of the ever-growing world explored in books, comics, video games, and even toys. But for the first time, the expansion will now occur on the big screen, all part of Disney's ambitious plan to release two or three Lucasfilm-produced movies a year (a roundabout way of saying "A whole lot of Star Wars!"). No details have been revealed on where Kasdan and Kinberg may take their scripts — we're still wondering who or what Episode VII is about — but with an endless ensemble to pick from, the sky is the limit.
Which character do you want to see get his or her own movie? Don't forget: Captain America director Joe Johnson really wants to make a Boba Fett movie. Now that dream is a real possibility.
Follow Matt Patches on Twitter @misterpatches
[Photo Credit: Lucasfilm]
More:
'Star Wars': 7 of the Craziest Movie Rumors About That Galaxy Far, Far Away
Now that Brad Bird Is Out, Which Disney Vets Could Direct 'Star Wars Episode VII'?
'Star Wars: Episode VII': Could Mark Hamill and Carrie Fisher Return?

'Two and a Half Men' Star Says Sorry: Sincere or Lame Apology?

'X-Men' Sequel: Huge Casting News!