New 'The Great Gatsby' One Sheets Highlight Isla Fisher, Joel Edgerton — POSTERS
To bogart a few idioms from the 1920s: This skirt is one swanky kinda vamp! She's really puttin' on the Ritz, eh? And how! Isla Fisher is really nailing the glamour of the roaring twenties in one of the two new posters from Baz Luhrmann's upcoming The Great Gatsby. This sure doesn't look like the girl we once knew from Wedding Crashers, that is for sure. By the looks of the poster alone, Fisher is both radiant and smoldering—and may have finally found the role to remind people she's more than just the crazy sister that attacked Vince Vaughn sexually. As fans of the novel, Fisher's vibe embodies her character to a T. It's a welcome sign for a film that's been pushed back from Christmas of this year to mid-2013—A notion that caused several fans to question and worry about the film's ability to adapt the iconic novel.
The images showcase Fisher as Myrtle Wilson, a woman with a connection to the man on the other poster, Tom Buchanan. Played by Joel Edgerton, homebody is serving us some serious James Joyce realness in the poster below. Seriously, they look like twins! The couple holds the key to a central storyline within the film, and their stature within society is well-represented by the glimmering, art deco filigree backdrop, as well as the general air of wealth radiating from the two.
For those who skipped 9th grade English, The Great Gatsby is set in the summer of 1922, where our narrator, Nick Carraway (a Yale graduate and World War I veteran) rents a small house on Long Island after taking a job in New York. This house just-so-happens to be near the mansion of Jay Gatsby—your everyday, run-of-the-mill, mysterious millionaire host of fabulous parties where folks go to see and be seen. Daisy is Gatsby's pretty second cousin whose rich husband, Tom Buchanan, was at Yale with Nick. There are glamorous parties, fabulous clothing, important rich people, love, domestic violence, deceit, betrayal, and murder. Just your average day where the other half live, of course.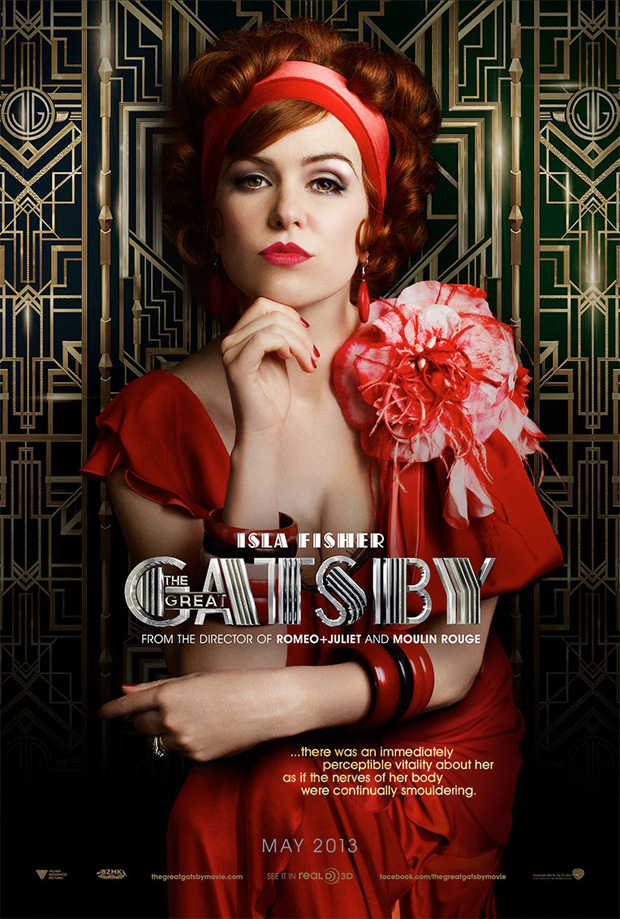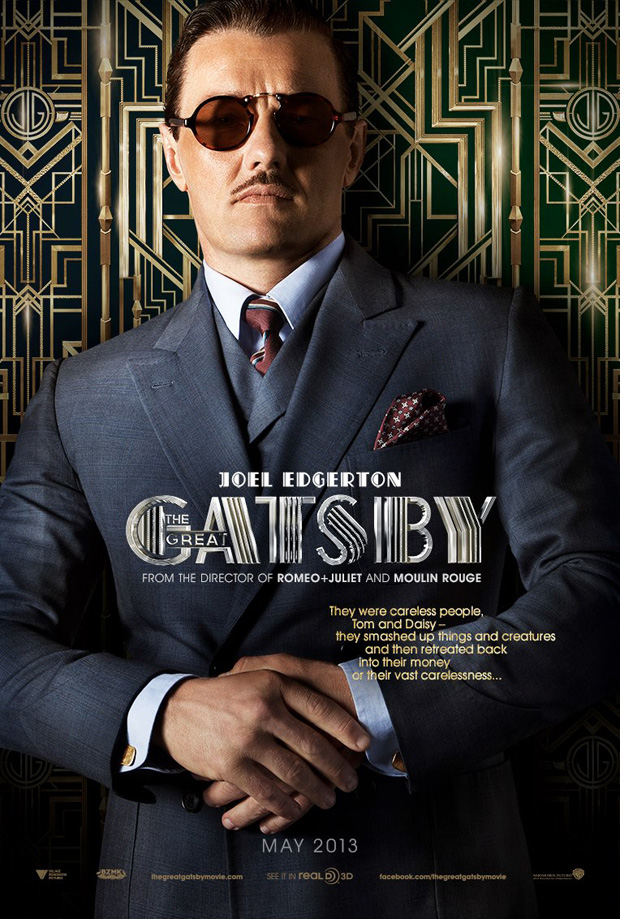 The Great Gatsby charlestons into theaters with the rest of its dance partners (including stars Tobey Maguire, Leonardo DiCaprio, and Carey Mulligan) on May 10, 2013.
What do you think of the newest posters for The Great Gatsby? Let us know in the comments!
[Photo Credit: Warner Brothers]
Follow Alicia on Twitter @alicialutes
More:
'The Great Gatsby' Trailer: The Baz Luhrmann CliffsNotes
'Great Gatsby' to Charleston Into Theaters May 10, 2013
'Great Gatsby': Who Is Leonardo DiCaprio & Tobey Maguire's New Friend? — PIC

'The Hobbit' Cast: A Who's Who New Character Guide (Moviefone)

'Les Miserables' Unscripted: Hugh Jackman, Anne Hathaway On Singing And Being Modest