New 'The Great Gatsby' Trailer Reveals Not All that Glitters is Gold — TRAILER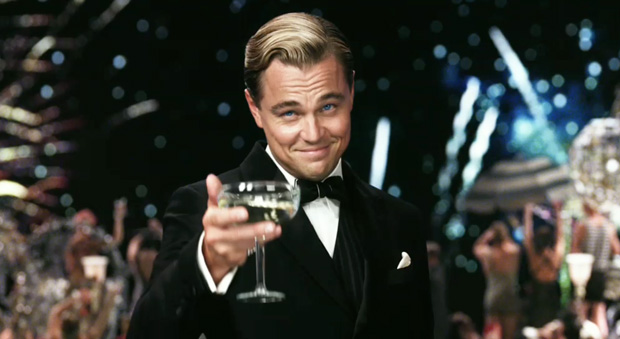 Well, count us in for the glittering, larger-than-life version of the Roarin' Twenties that Baz Luhrmann has crafted up for The Great Gatsby. If you weren't convinced of the spectacle before, something tells us you might be now.
A new trailer for the film version of the F. Scott Fitzgerald novel on every English Major's personal top ten list, has debuted Wednesday evening, and brings with it the story of Jay Gatsby and his seeming revolving-door of friends and foes. Wherein the original trailer kept most of the plot at bay, this second one finds our Mr. Jay Gatsby (Leonardo DiCaprio) recanting the tale of his personal history to new friend/neighbor Nick Carraway (Tobey Maguire) while giving him a foot in the door of the secret and oh-so-scandalous world of the society elite.
There are brief glimpses of other characters we've yet to see much of—Myrtle Wilson, Tom Buchanan and (of course) his wife, Daisy—continuing the slow unfolding of Gatsby's epic tale of wealth, love, deceit, and their subsequent troubles. Luhrmann's Gatsby looks big, brash, and dazzling: a real adrenaline-rush of all that glitters and is golden in the age of excess and art deco. We're very interested to see how it comes to life on the big screen.
The only hope we have left for this film? A lot more jazz and a lot more big band music. Sorry, Baz—but it's the 1920s, not the 2020s. We're all for aggressive artistic choices, but we just hope there's a bit more of Louis, Jelly Roll, and Duke in the mix later on. Call us crazy, but sometimes Kanye West isn't the answer to every musical quandary ever. But maybe that's just us?
The Great Gatsby hits theaters May 10, 2013. Will you be checking it out? Let us know in the comments!
[Photo Credit: Warner Brothers]
Follow Alicia on Twitter @alicialutes
More:
New 'The Great Gatsby' One Sheets Highlight Isla Fisher, Joel Edgerton — POSTERS
'Great Gatsby' to Charleston Into Theaters May 10, 2013
'The Great Gatsby' Trailer: The Baz Luhrmann CliffsNotes

'A Few Good Men': Where Are They Now? (Moviefone)

Best Mother and Son Movies: 'Forrest Gump' and More! (Moviefone)