New 'The Pirates!' Trailer is Silly, Swashbuckling Fun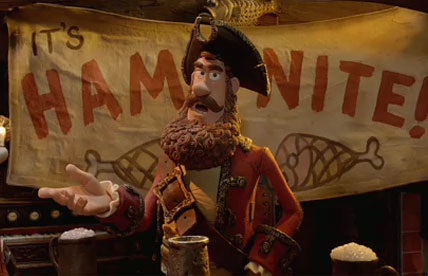 The Aardman Animations studio is one of the unsung heroes of animation. Everything they create—from Wallace & Gromit shorts, to Chicken Run, to their Robbie the Reindeer Christmas specials that I still think about every holiday season—is a work of splendor. Their upcoming The Pirates! Band of Misfits looks to be a humorous, good-natured and hyperactive romp of silliness: the studio's milieu.
As with the first trailer, this new international preview for the film (which sports a UK-only title) shows the comically egomaniacal Pirate Captain (Hugh Grant) vie for the coveted Pirate of the Year Award. In order to earn this, he must pull off the greatest plunderance the seven seas have ever seen (the end of that sentence needs to be sung). Unfortunately, the Pirate Captain and his ragtag crew (consisting largely of fish in hats) are not exactly up to the task. So who do pirates turn to when they need help? SCIENTISTS.
Also lending their voices are Salma Hayek, Jeremy Piven and Adewale Akinnuoye-Agbaje (Mr. Eko from LOST).
Enjoy the trailer. The Pirates! reaches theaters March 30, 2012.