New 'Tower Heist' Trailer Is an Age Old Tale of Righteous Warfare
The revenge piece. The underdog tale. The motley crew epic. The poor-versus-rich debacle. The guy-from-my-past backstory. The get-what's-mine angle. The no-turning-back theme. The now-or-never mindset. The bringing-down-the-man ideology. The we-deserve-better maxim. The not-in-my-backyard mantra. The be-your-own-hero fable. The watch-what-we-can-do plot. The nobody-calls-me-chicken motif. The tower heist. 
Tower Heist stars Ben Stiller as the leader of a gang of beyond-the-point-of-disgruntled employees at a high class hotel whose billionaire boss, Alan Alda, has just robbed all of them of their retirement funds. Stiller and his coworkers, Casey Affleck, Matthew Broderick, Michael Pena and Gabourey Sidibe enlist the help of Stiller's childhood friend, Eddie Murphy, a lowlife conman, to steal back the money that is rightfully theirs. Tea Leoni is also in the movie, but I'm not really sure what she does. But that's okay!
You can watch the trailer here at Apple. But will you? That's the question. Answer: yes. You should. Tower Heist.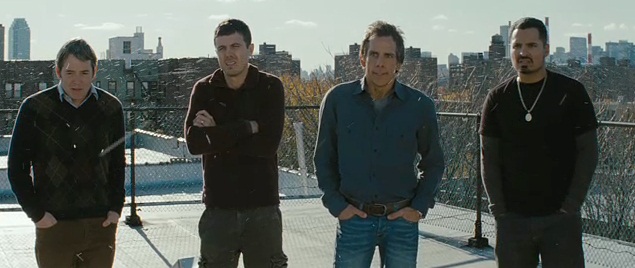 Source: Apple