New York Film Festival 2012 Line-up: 'Life of Pi,' Bill Murray's FDR and More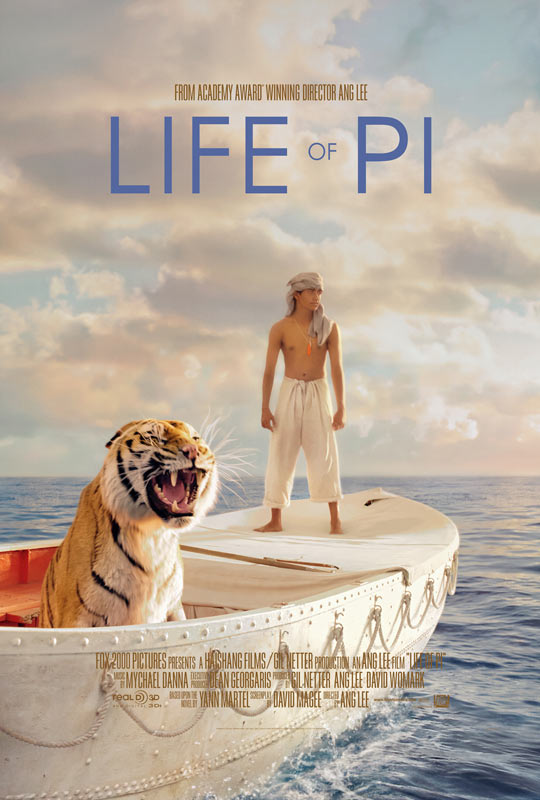 They say if you make it in New York, you can make it anywhere, so it's no wonder the 50th Annual New York Film Festival is enjoying so many buzzed about films in its lineup, which was recently announced. Aside from the previously announced opening and closing night films — Ang Lee's Life of Pi, which will open the festival with NYFF's first-ever 3-D screening, and Robert Zemeckis' Flight — NYFF has laid out 32 films to be screened at this year's fest. And the list includes a few projects you've probably already caught wind of.
The Bill Murray-starrer Hyde Park on the Hudson is the film in which the classic comic actor takes on Franklin D. Roosevelt. Cineophiles who've been waiting patiently to see the winner of the Cannes Film Festival Palm d'Or can rejoice because Amour is also gracing the long list of films hitting New York's Lincoln Center. Other highlights include Christina Hendricks as an unhappy mother in Ginger and Rosa and Rachel McAdams and Noomi Rapace in Brian DePalma's erotic thriller Passion.
Check out the full 2012 lineup and check back in September for coverage from Hollywood.com:
Amour (directed by Michael Haneke)
Araf—Somewhere In Between (Yesim Ustaoglu)
Barbara (Christian Petzold)
Beyond the Hills/Dupa dealuri (Cristian Mungiu)
Bwakaw (Jun Robles Lana)
Camille Rewinds/Camille Redouble (Noémie Lvovsky)
Caesar Must Die/Cesare deve morire (Paolo Taviani)
The Dead Man and Being Happy/El muerto y ser feliz (Javier Rebollo)
Fill the Void/Lemale et ha'chalal (Rama Burshtein)
First Cousin Once Removed (Alan Berliner)
Flight (Robert Zemeckis)
Frances Ha (Noah Baumbach)
The Gatekeepers/Shomerei Ha'saf (Dror Moreh)
Ginger and Rosa (Sally Potter)
Here and There/Aquí y Allá (Antonio Méndez Esparza)
Holy Motors (Léos Carax)
Hyde Park on Hudson (Roger Michell)
Kinshasa Kids (Marc-Henri Wajnberg)
The Last Time I Saw Macao/A Última Vez Que Vi Macau (João Pedro Rodrigues)
Leviathan (Lucien Castaing-Taylor)
Life of Pi (Ang Lee)
Like Someone in Love (Abbas Kiarostami)
Lines of Wellington/Linhas de Wellington (Valeria Sarmiento)
Memories Look at Me/Ji Yi Wang Zhe Wo (Song Fang)
Night Across the Street/La Noche de enfrente (Raul Ruiz)
No (Pablo Larrain)
Not Fade Away (David Chase)
Our Children/À perdre la raison (Joachim Lafosse)
Passion (Brian de Palma)
Something in the Air/Après Mai (Olivier Assayas)
Tabu (Miguel Gomes)
You Ain't Seen Nothin' Yet/Vous n'avez encore rien vu (Alain Resnais)
NYFF kicks off Sept. 28 at New York's Lincoln Center.
[Photo Credit: Fox 2000]
More:
Smell a Bill Murray Oscar With These Pics from 'Hyde Park on the Hudson'
The Awesome Bill Murray Coloring Book We Must Have – EXCLUSIVE