New York City Through the Decades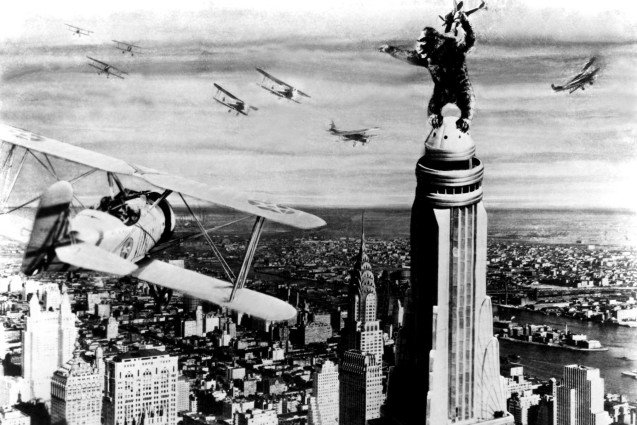 Everett Collection
New York is probably America's most filmed and depicted city, but few films really capture what the city actually feels like. Since David O' Russell is doing his best impression of 1970's New York with American Hustle, we've picked out a film or a television show for each of the past nine decades that we feel perfectly encapsulates New York at that time.
1920s: The Great Gatsby
Baz Luhrmann's adaptation explodes with glitz and glamour as it depicts New York's 1920s opulence with bold colors and blaring hip hop billowing through the scenes. While being terribly anachronistic, in an odd (and intentional) way,  Luhrmann's peculiar choices still help give The Great Gatsby a maximalist vision of F. Scott Fitzgerald's novel that suits the roaring '20s, and New York, perfectly.
1930s: King Kong
The image of King Kong straddling the Empire State Building is one of cinema's most iconic scenes, and it's as New York as it come. It's a massive beast taking on man's tallest and most lofty achievement in the center New York at the height of its power.
1940s: The Godfather
While America was in the midst of war overseas, there was a war unfolding on the streets of New York between the crime families in The Godfather. Michael Corleone comes home from WWII and gets himself wrapped up in his family's ongoing battle for mob supremecy. The Godfather offers an elegant and romanticized version of New York where the criminals still had class.
1950s: Rear Window
New Yorkers tend to be cramped up pretty tight on the city that only lets us build up rather than out, and this feeling of claustraphobia is captured perfectly in the Alfred Hitchcock classic Rear Window. James Stewart finds himself getting a little too involved in his neighbors' lives when he begins snooping on them with a pair of binoculars.
1960s: Mad Men
The '60s was a time of great cultural change in America and Mad Men puts New York at its nucleus. The traditional suits of the Madison Avenue ad world begin to feel their world closing in on them when traditional values are ripped from their seams, and a new normal is stitched in its place.
1970s: Taxi Driver
Taxi Driver painted a dark portrait of New York filled with the grit and gristle of crime, prostitution, and corruption, all seen through the cracked vision of Travis Bickle, an unhinged cabbie who will go to great lengths to clean up the streets his own dangerous way.
1980s: Do the Right Thing
Even though Hollywood sometimes forgets, New York is more than just the island of Manhattan. There are four other boroughs, each with their own unique flavor and character. Spike Lee crafts a loving letter to Brooklyn with Do the Right Thing. Lee showcased a slice of Brooklyn in the 80's you couldn't see on the 11'o clock news — one brimming with life, culture, and vibrancy, but one that also crackled with racial tension and unresolved issues. 
1990s: Seinfeld
In the show about nothing, four friends bounced around a '90s New York contemplating life's funny curiosities and generally being terrible to each other and everyone else they came in contact in.
The 2000s: Spider-Man
In Spider-Man, Sam Raimi made Peter Parker's identity as a New Yorker just as important as his identity as the super hero. Peter Parker crammed his way into tiny studio apartments and took on crappy jobs just like any other 20-something New Yorker would. The only exception was that he spent his free time fighting evil and trying to get the girl. The film also showed how New Yorkers come together in the face of a tragedy, whether it be something like Hurricane Sandy or the latest Green Goblin attack.
The 2010s: Girls
Nothing on television feels like such a pertinent snapshot of New York circa right now than HBO's Girls. Modern day gentrified Brooklyn comes alive as we follow the mis-adventures of Hannah Horvath and her friends as they navigate aimlessly towards adulthood, and stumble on every step along the way.