New Zealand to Mint Gold 'Hobbit' Coins, Is Now Closer to Becoming Actual Middle Earth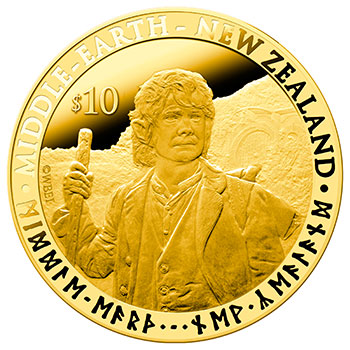 Peter Jackson's Lord of the Rings trilogy and follow-up series The Hobbit (now a three-picture endeavor) brought millions of dollars to New Zealand businesses. Making major Hollywood blockbusters on the scale of Jackson's astonishing vision takes a lot of people — but thankfully American studios have always been happy to oblige.
Now New Zealand is paying back the favor, by literally turning The Hobbit into money.
The New Zealand Post announced that it would be taking pre-orders for three commemorative, legal tender coins minted from 0.9999 gold. The three coins feature a trio of characters from the first film, The Hobbit: An Unexpected Journey: Bilbo Baggins (Martin Freeman), Gandalf (Ian McKellan), and Thorin Oakenshield (Richard Armitage). A single coin will run the rabid Tolkien nut a whopping NZ$3,695 ($3,000). The set of three requires a sum worthy of Smaug the Dragon, coming in at NZ$10,995.00 ($8988.4125).
Pre-ordering the coins is now available for the mid-November release — just in time for The Hobbit to arrive in theaters Dec. 14, 2012. There's only one thing missing from this fantastical collecting event: the perfect 1-800 number sales pitch commercial reminding us how beautiful commemorative coins are. Until the hobbits, dwarves, and wizards assemble for their own spot, imagine Gandalf in the place of Buzz Aldrin in this spot for a 1989 Moon Landing Commemorative Coin commercial. Basically the same:
Follow Matt Patches on Twitter @misterpatches
[Photo Credit: New Zealand Post/Reuters]
More:
The Hobbit Is Front and Center in New 'Hobbit' Poster
Does 'The Hobbit' Risk George Lucas-ing the 'Lord of the Rings' Trilogy? — TRAILER
'The Hobbit': How Many Dwarves Does It Take to Slay a Dragon? — POSTER