Next Up, Oscars? Spielberg, Affleck Crack the Directors Guild's 2013 Nominations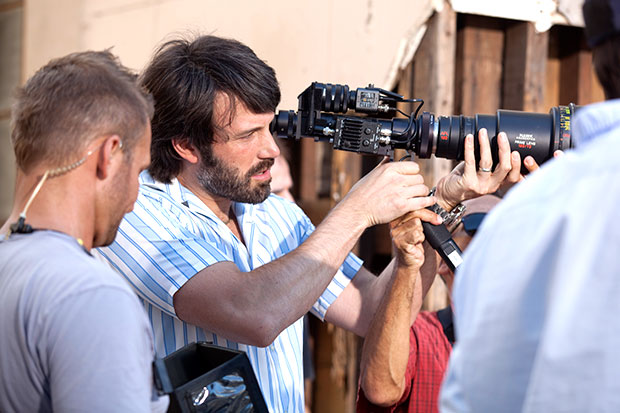 This Thursday, Jan. 10, we'll find out which of 2012's filmmakers will be honored with prestigious Oscar nominations. The year offered plenty of choices, from directors with an eye for the small-scale and intimate, to blockbuster artists who painted with grandiose cinema, and all the folks in between, who found a cunning balance between the two to tell their specific stories.
But as always, before we get to the Academy Awards picks, the Directors Guild of America offers up their top five of the year. No surprise, the 2013 slate is packed with Oscar frontrunners.
This year's picks include Ben Affleck for Argo, Kathryn Bigelow for Zero Dark Thirty, Tom Hooper for Les Misérables, Ang Lee for Life of Pi, and Steven Spielberg for Lincoln. Other buzzy directors who could still step up and nab an Oscar nomination but are notably missing from the DGA's picks include David O. Russell (Silver Linings Playbook), Quentin Tarantino (Django Unchained), Wes Anderson (Moonrise Kingdom), and Paul Thomas Anderson (The Master). A few other Oscar possibilities are ineligible — since the DGA only nominates American directors who are part of their guild, Amour director Michael Haneke was not considered.
The DGA Awards follow last Friday's Writer's Guild Awards which nominated an eclectic batch including Looper, Flight, and The Perks of Being a Wallflower. But crossover remains, with Life of Pi, Zero Dark Thirty, and Lincoln all receiving screenplay nods. Where all the nominations meet could be a clear sign of a Best Picture winner.
The DGA awards will be handed out on Saturday, Feb. 2, 2013. Fun fact: the DGA Awards began in 1948 and only six times has the winner not gone on to win the Academy Award for Best Director. Keep your eyes peeled, Oscar pool sharks.
Follow Matt Patches on Twitter @misterpatches
[Photo Credit: Warner Bros. Pictures]
More:
Ben Affleck on How He Knew 'Argo' Could Be Funny and Dramatic — EXCLUSIVE
'Les Mis' Director on Hugh Jackman: 'When He Sang, I Didn't Yearn for Him to Stop' — EXCLUSIVE
Life of Pi': How Ang Lee Helped Irrfan Khan Nailed an Impossible Role

'Texas Chainsaw': Top 5 Leatherface Kills (Moviefone)