Nicholas Hoult Is 'Beast,' Landry Jones 'Banshee' in 'X-Men'

Deadline reports that 20th Century Fox has decided upon actor Nicholas Hoult to play Beast in Matthew Vaughn's upcoming X-Men: First Class, replacing Benjamin Walker.  You may remember that earlier this week we reported that the 28-year-old Walker had originally been dropped by the studio – newly preoccupied with Twilight's formula for success – for not being young or sexy enough.  After screen-testing a number of other actors, Fox re-offered the role to Walker – but by then the actor had decided to return to his starring gig in 'Bloody Bloody Andrew Jackson', the hit musical that is now headed to Broadway.
Hoult made his cinematic debut as Marcus, the oft-bullied child adopted by Hugh Grant in the 2002 About a Boy, but has gone on to more mature roles in A Single Man, Clash of the Titans, and a recurring spot on the hit British teen drama Skins.  Since his next project, Warner Bros.' Mad Max: Fury Road, has been delayed, Hoult was available to join James McAvoy (Professor Xavier) and Michael Fassbender (Magneto) in First Class.  Thankfully, this means that Fox was unable to procure Taylor Lautner, whom the studio had been pursuing as part of their campaign to make X-Men appeal to the Twilight generation.

In other news, speculation has been building all week that Aaron Johnson will play the young Scott Summers, also known as Cylcops (played by James Marsden in the first three X-Men movies).  Johnson recently worked with director Matthew Vaughn on Kick-Ass (2010), so the rumors that the actor will join the First Class ensemble are likely true, although yet unconfirmed.
Now that the Fox has filled the role of Beast (and possibly Cyclops), expect the studio to finish up the rest of its casting quickly, as production is slated to begin next month in time for a summer 2011 release.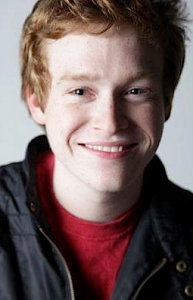 UPDATE: We're now hearing (via Deadline) that the red-headed Caleb Landry Jones has just been cast as Banshee in First Class.  I told you 21st Century Fox would finish up their casting quickly!  You may recognize Landry Jones as the kid who sold his shirt to an injured Javier Bardem in No Country For Old Men, or on hit TV show Friday Night Lights.  He also just finished working on the upcoming Facebook drama The Social Network with Jesse Eisenberg, and is slated to appear in Liongate's The Last Exorcism.
Banshee – alter ego Sean Cassidy – is a mutant who had a relatively short run as a member of the X-Men, but whose sonic scream and concussive blasts were devastating to enemies, paralyzing and disorienting them while allowing him to sustain flight.