The Most Nicholas Sparksy Moments in 'The Best of Me' Trailer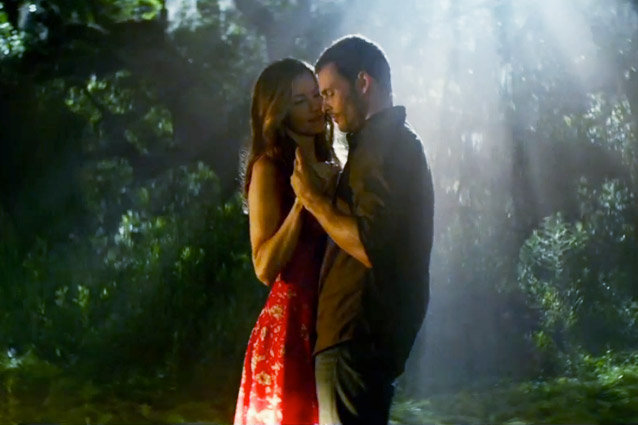 Relativity Media
Mere seconds into the new trailer for The Best of Me, you'll know. Without any warning or background information, you'll have no doubt in your mind: this is a Nicholas Sparks movie. And what a Nicholas Sparks movie it looks to be.
Directed by the guy who made Soapdish, The Best of Me is only the latest frosting rose on the store bought ice cream cake that is Sparks' catalogue of novels-turned-films. After years of the same old love story game, you'd think a new Sparks flick might be inclined to veer from routine just a tad. Well, you'd be left ugly crying amid an Atlantic Coast downpour, because such is far from the case. The first trailer for The Best of Me looks to wrangle in just about every conceivable Nicholas Sparkism in its brief 90-second lifespan. And here they are, every single Nicholas Sparksy moment in order of Nicholas Sparksiness.
28) Gleeful outdoor wedding embrace (1:08)
27) Dude teen giving girl teen a rose (:22)
26) Comparatively [see #10] explicit illustrations of teen sexuality (1:12)
25) Secondary characters weeping openly (:40)
24) Woodland dancing (1:15)
23) A neat camera trick that indicates the True Detective lady is playing the same character as tree-reading teen girl! (:47)
22) Teen dude proposing pseudo-hypothetical about the never being able to see his teen girlfriend again, passively demanding an impromptu declaration of her love (:36)
21) Adult human beings lifting each other up in broad daylight (1:00)
20) Dramatic head turn! (:46)
19) Rural/suburban Atlantic Coast town (:07)
18) Sad driving (:39)
17) James Marsden in an undershirt (:44)
16) Teens talking about flirting… not actually flirting, talking about flirting (:15)
15) Teens sitting in a tree, legs intertwined chastely, reading (:27)
14) Lake kissing (:58)
13) Insinuation of prejudices relating to socioeconomic class differences between characters, even though everybody seems pretty much the same level of well off (:33)
12) A barn (:43)
11) Charmless interaction that establishes the thematic premise of the film outright (:50)
10) Horizontal silhouettes kissing, which means sex (1:02)
9) He says the name of the movie! (1:16)
8) Teens lying nude in the presence of an active fireplace (:35)
7) Teens exchanging silent, meaningful glances upon first sight of one another that will determine the course of their entire lives (:10)
6) "From Nicholas Sparks" title card (:13)
5) Male shirtlessness (:56)
4) A Southern fella who just wants what's best for his daughter, and he's not afraid to tell that to the impossibly non-threatening young buck who likes her (:30)
3) Headlining actors smiling vacantly at nothing (1:04)
2) Hollow proclamation that sounds romantic on paper, maybe (1:11)
1) Rain kiss (:29)
This movie comes out eventually, I guess. You can see it then.