'Safe Haven"s Nicholas Sparks Picks His Favorite Nicholas Sparks Character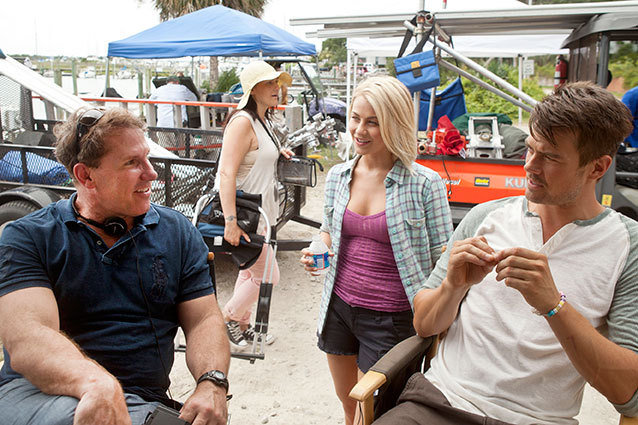 Nicholas Sparks knows he has been creating the perfect men for audiences everywhere. But when he was forced to pick his favorite, his choice was surprising.
While most people would choose The Notebook's Noah played by perfect human speciman Ryan Gosling, Sparks himself prefers a much different character. "I like Landon Carter," Sparks says of his A Walk to Remember bad boy played by Shane West. "I love a good story of redemption. Here was a guy who was heading down the wrong path, and I like the fact that he becomes better." His choice might also have a little something to do with the fact that Landon's love interest in the movie, played by Mandy Moore, was based on Spark's sister.
RELATED: 'Safe Haven' Star Julianne Hough On Her Sexy Kiss With Josh Duhamel
When Hollywood.com sat down with the romance movie mastermind to talk about his latest film Safe Haven, Sparks was enthusiastic about its break from the mold of his previous work thanks to the addition of the thriller aspect.
"Just when you think you know exactly what you're getting in this film, because it's Nicholas Sparks, it's the beach, you kind of know what's coming," Sparks tells Hollywood.com, "and you sit down and it's like, this is not the opening I expected." Sparks warns that all the way up until the end of the movie, Safe Haven is not your typical romance story. "You walk out and go, wow, that was fun. Everything I wanted and more," Sparks says.
RELATED: 'Safe Haven' Star Josh Duhamel Says Channing Tatum Hazed Him
Safe Haven is in theaters now. Check out the full interview below:
Reporting by Jessica Courtemanche
Follow Sydney on Twitter: @SydneyBucksbaum
[Photo Credit: James Bridges/Relativity Media]
---
From Our Partners:

Kate Upton Bares All in Nothing But Body Paint: Video (Celebuzz)

Bradley Cooper Dancing Is Surprisingly Awkward, Sweaty (Vh1)