Nicolas Cage and John Travolta To Face Off Again In Indie Thrillers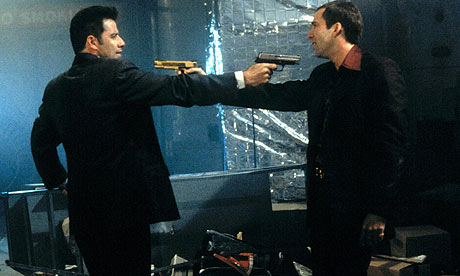 Nicolas Cage and John Travolta may rip each others faces off once again — but this time, they might wear thicker glasses and tighter jeans.
Vulture reports that the two actors may be reuniting for two indie thrillers. The first, called Shrapnel, was written by Evan Daugherty and appeared on the 2008 Hollywood Black List. It tells the story of a Bosnian soldier seeking vengeance against an American by creating a hunting game.
The project is supposed to start in June with Die Hard's John McTiernan as director, but there's one little hiccup. As Vulture points out, McTiernan has some legal troubles last year, when he was fined $100,000 and sentenced to a year in prison for perjury on a Hollywood wiretap case. He's currently out on bail and appealing the sentence — so, you know, he might not be around for that June start date.
The other potential project is called Sea Trial, a Chuck Roven-produced film from writer/director Raymond De Felitta based on the novel by his father, Frank De Felitta.
Unfortunately, neither of these projects involve exchanging faces. So, to get that weird face-to-body thing, we're just going to have to watch The Curious Case of Chris Evans — or in other words, Captain America.
Source: Vulture