Michael Bay's 'Ninja Turtles' Casts Leonardo, Donatello, and Michelangelo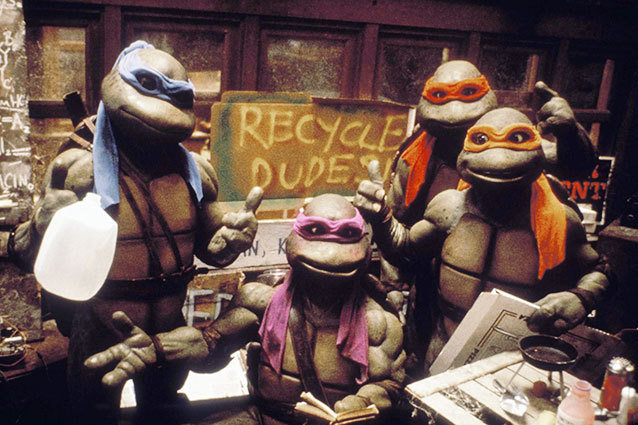 The journey to self-discovery is filled with many hurdles. On our ascensions to adulthood, we're bound to hit a few snags in our effort to define who we are, looking to various hobbies and role models from which we are eventually prone to stray. But in 1984, the world was gifted with a fool proof psychological model for young men and women seeking identity: the Teenage Mutant Ninja Turtles. Every kid growing up in the '90s empathized with one member of the pizza-gobbling foursome — the nerds had Donatello, the party dudes had Michelangelo, the rebels had Raphael, and the stand-up gents had leader Leonardo. And now, three lucky young chaps will get the opportunity to live out their childhood dreams: Deadline reports that Michael Bay's developing Ninja Turtles movie has cast three more of its heroes.
RELATED: Megan Fox to Play April in 'Ninja Turtles': Is This Our Feminist Hero?
Jeremy Howard, a character actor memorable in films like Accepted, will be playing the brains of the operation: Donatello. Noel Fisher of Showtime's Shameless will be donning the party boy mentality as Michelangelo. And at the head of the team will be acting newcomer Pete Ploszek as Leonardo. The three join an already cast Raphael, The Hunger Games: Catching Fire star Alan Ritchson, as well as the big name Megan Fox as Turtle pal April.
So now, we wait for the really important roles: Who will play Splinter? Who Shredder? Who Krang? For the love of God, who will play Krang?
Follow Michael Arbeiter on Twitter @MichaelArbeiter
[Photo Credit: New Line Cinema]
---
You Might Also Like:


15 Oscar-Winning Nude Scenes


10 Insane 'Star Wars' Moments You Didn't Notice