'No Strings Attached' Signed Poster Giveaway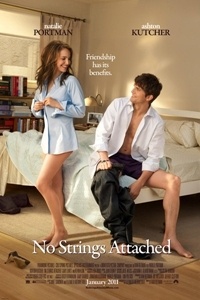 No Strings Attached won the box office last week proving that the rom-com is alive and well and now you can own a poster signed by the gorgeous Natalie Portman, Ashton Kutcher, Greta Gerwig, Ivan Reitman and Lake Bell.
No Strings Attached is the story of the complications of friends with benefits between a lonely doctor (Kutcher) who gets lucky with a pretty co-worker (Portman).
We've got five (5) posters to giveaway to some lucky winners and we've made it super simple to win!
How To Enter:
1. Become a Fan of Hollywood.com – Go to our Facebook page here and click the LIKE button at the top of the page.
2. "Like" our Post –  Go to our "'The Signed No Strings Attached Poster Giveaway " post and click the LIKE button below it.
We'll pick five (5) lucky winners this Friday, January 28.
NOTE: You MUST have a valid U.S. address.
GOOD LUCK!