Nolan's long-awaited vision hits theatres.
UPDATE – Let the word-of-mouth begin.  With $3 million in midnight screenings Christopher Nolan's highly-anticipated "Inception" gets off to a start that is certainly no challenge to any of the midnight records, but hopefully will motivate moviegoers to begin the social network chatter that will either make or break the film.  With its incredible visual style, plot convolutions and filmmaking pedigree, "Inception" is the stuff from which advanced film school courses are made.  Weekend projections put the mind-blowing film in the $50 plus million range.
It's finally here! One of the most anticipated movies of the summer, if not the year as Warner Bros.' "Inception" prepares to mind-bend movie-goers with its smart, intricate storyline, solid performances and awe-inspiring visuals and special effects.  Arguably one of the most accomplished film directors of all-time, Christopher Nolan brings this truly original production to the big screen (and of course his beloved IMAX canvas) after a ten year gestation period during which the super-brainy director developed the story and was likely waiting for special effects technology to catch up with his cinematic vision.  Nolan holds the distinction of having directed the film with the biggest opening weekend box office of all-time with "The Dark Knight" which opened almost exactly two years ago to the day with a whopping $158.4 million. 
This could potentially give star Leonardo DiCaprio the best debut weekend of his career ahead of this year's first quarter hit "Shutter Island" which gave the star a career high weekend opening of $41.1 million.  Ellen Page gives a subtle and smart performance and Joseph Gordon Levitt gets the MVP award for a truly gritty and career re-defining role that has the actor giving a very physical and uncommonly (for him) tough performance.  British born Tom Hardy is also a revelation as Eames, a street-wise operative. Of course, DiCaprio gives an amazing performance under the tutelage of yet another brilliant director.  Not to be missed, "Inception" is the sort of summer blockbuster that does not insist that you leave your brain at the door; quite the contrary as it actually requires that you put your thinking cap on and go along for a very challenging but very fun and satisfying ride.  Notable that Warner Bros. has a maintained a tradition of terrific box office performances on this mid-July date with "Harry Potter 6" last year and the aforementioned "The Dark Knight" in 2008.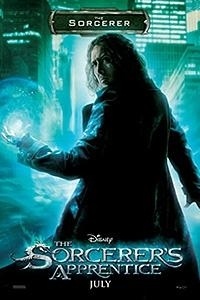 As a cool alternative for families who have been giving major support of late to PG-rated action adventures such as "The Karate Kid" and "The Last Airbender," Disney brings Nicolas Cage and Jay Baruchel ("Tropic Thunder," "She's Out of My League) together in this action film that has Cage sporting magical powers in his role as a master sorcerer and teams him with regular guy Dave (played by Baruchel) as they try to outwit the evil Maxim Horvath (Alfred Molina who played the evil Doc Ock in "Spider-Man 2."  Pulling a very famous title from the vaults, Disney hopes to continue their winning streak with families in the wake of the massive success of "Toy Story 3" and take their G-rated devotees and bring them back for some live action PG-rated family adventure.
Another strong weekend in store after last weekend's 35% increase over the comparable weekend a year ago and the much bigger-than-expected debut and chart topping mid-week grosses of Universal's "Despicable Me" which has earned nearly $80 million in just six days of release.  Summit's "Twilight Saga: Eclipse," Disney's "Toy Story 3" and Sony's "Grown Ups" are also displaying continued strength and should put us again in the revenue sweet spot along with this weekend's newcomers.  With about seven weekends remaining in the season, the last third of the summer now holds the key to the ultimate fate of the box office after a somewhat rocky May into mid-June period and subsequent show of strength by "The Karate Kid," "Eclipse," "Toy Story 3," "The Last Airbdender" and "Despicable Me."