Liam Neeson Combines 'Taken' with 'Speed' (on an Airplane) in 'Non-Stop' Trailer
From the moment that he started making his infamous menacing phone call in 2008's Taken, Liam Neeson has become an action hero for the over-50 set. But with two Taken films under his belt and one more on the way, how could the thrill of Neeson shouting into phones and vowing revenge be re-invented? Well, according to the team behind his latest film, Non-Stop, the solution is to combine Taken with Speed and set the whole thing on a plane. Someone should send Samuel L. Jackson a check. 
Non-Stop follows Neeson as Bill Marks (which is eerily similar to his Taken character, Bryan Mills), a U.S. Air Marshal who begins recieving threatening text messages while on an international flight. The mysterious texter threatens to kill one passenger every 20 minutes unless someone pays $150 million to a private account. Nobody takes Bill seriously until, in true action thriller style, passengers start dying, the plane starts crashing and someone frames Bill for the whole thing. The film also stars Julianne Moore, Downton Abbey's Michelle Dockery, and House of Cards' Corey Stoll.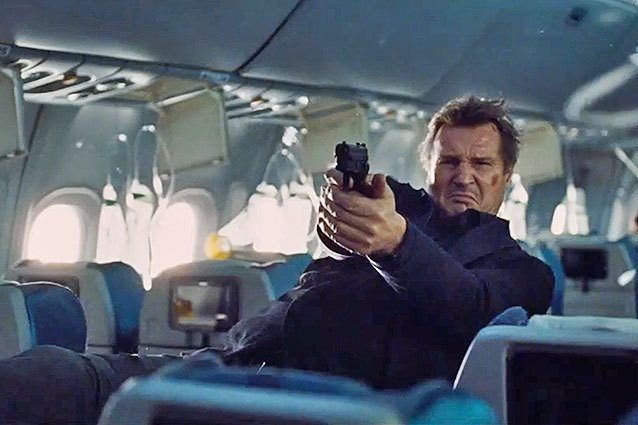 joblomovienetwork/YouTube
Based on the trailer, Non-Stop promises to check off every box in the action-movie checklist: fistfights, gunfights, suspense, seemingly insurmountable odds, an unseen, diabolical villain, an attempt to frame the hero, and a literal ticking time bomb. Sure, it's not breaking any ground, but luckily the film doesn't appear to be taking itself too seriously… after all, it's trying to make text messages seem terrifying. Neeson is bringing back his trademark don't-mess-with-me growl, which frankly loses something when it's not being directed at a faceless villain on the other end of the phone. But, it's almost comforting to know that no matter how absurd the hostage situation feels, Neeson is always there to shoot things and rescue people. 
Non-Stop hits theaters on February 28, 2014.