Nip Slips, F-Bombs and More: The Oscars' 5 Best NSFW Moments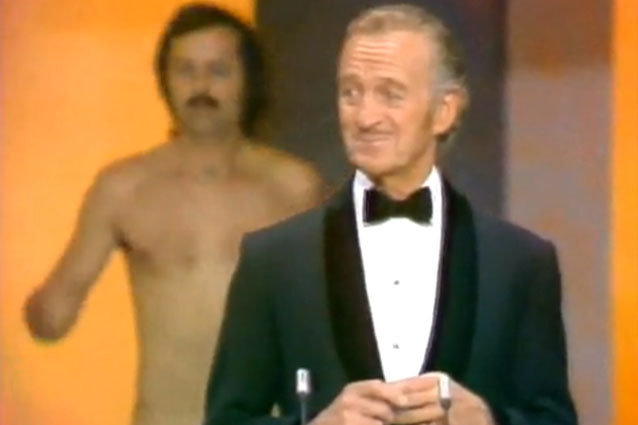 The Academy Awards are a night to celebrate Hollywood's finest films, the amazing work casts and crew have created throughout the year. We applaud as the winners take home their coveted golden statues and the losers smile through their broken hearts. The Oscars are a classy night for only the classiest of entertainment.
RELATED: Hollywood.com's Coverage of 2013 Oscars
Well, most of the time. Even during the entertainment industry's biggest night, things can get a little… rowdy and outrageous. And while the network delays the broadcast so it can hover its fingers over the censor button, sometimes scandalous slip-ups get through (much to our delight!). From debated nip slips to naked streakers, bleeped F-bombs to cross-dressing on the red carpet, here are the five most jaw-dropping, gasp-inducing, and all-around shocking Oscar Moments.
1. The Streaker
When host David Niven was introducing Elizabeth Taylor at the 1974 Oscars, a man named Robert Opel ran across the stage behind him. Buck. Naked. The most impressive part? Niven didn't even break a sweat, continuing the broadcast by saying, "But isn't it fascinating to think that probably the only laugh that man will ever get in his life is by stripping off and showing his shortcomings?"
2. Melissa Leo's F-Bomb
During her acceptance speech for Best Supporting Actress for The Fighter, Leo was so in shock that she let fly an F-bomb… and some censors didn't catch it in time!
3. Jennifer Lopez's Nip Slip(?)
This one has been hotly debated ever since Lopez took the stage with Cameron Diaz to present at last year's Academy Awards. Did her nip slip out of her dress? The actress/singer's reps deny any wardrobe malfunction, but what is that darker little patch of skin peeking out from underneath her dress? 



4. T. J. Martin's F-Bomb

During the filmmaker's acceptance speech for his documentary, The Undefeated, he let loose an F-bomb, saying he wished he could have all the nominees on stage with him. This time, the censors successfully bleeped it before sensitive viewer ears heard the swear.

5. Trey Parker and Matt Stone on the Red Carpet

Parodying Jennifer Lopez's infamous Grammy dress and Gwyneth Paltrow's gown, Parker and Stone hit the Oscars red carpet looking a little out of place. In their documentary, 6 Days to Air, they confess that they were actually tripping on acid as they strolled down the red carpet. But really, what would you expect from the creators of South Park?

Tune in to the 85th Annual Academy Awards on Sunday, February 24 to see what outrageous, scandalous, and bleeped moments from this year's broadcast join the list!

Follow Sydney on Twitter: @SydneyBucksbaum

[Photo Credit: The Oscars]
---
From Our Partners:

40 Hottest Celeb Twitpics of the Month (Vh1)

'Sports Illustrated' Swimsuit Issue: A Visual History (Celebuzz)