NYCC 2011: New 'Total Recall' Footage Teases Flying Cars, Cat Fights and Robots

After showing off some shiny 3D footage for Underworld Awakening, the fourth entry in his vampire/werewolf action series, producer Len Wiseman appeared a second time on the New York Comic Con jumbotron to introduce exclusive footage from his next directorial project, Total Recall.
The movie is a semi-remake of the 1990 Arnold Schwarzenegger sci-fi flick of the same name, but even after the first snippets of footage, the two films don't appear to share much other than a title and a loose, mind-bending scenario. The first round of footage was an extended version of the preview that played at SDCC (while Total Recall was still well into production). Colin Farrell plays Doug Quaid, who arrives at the brothel-esque Rekall center to have fake memories implanted into his brain—the ultimate form of escapism.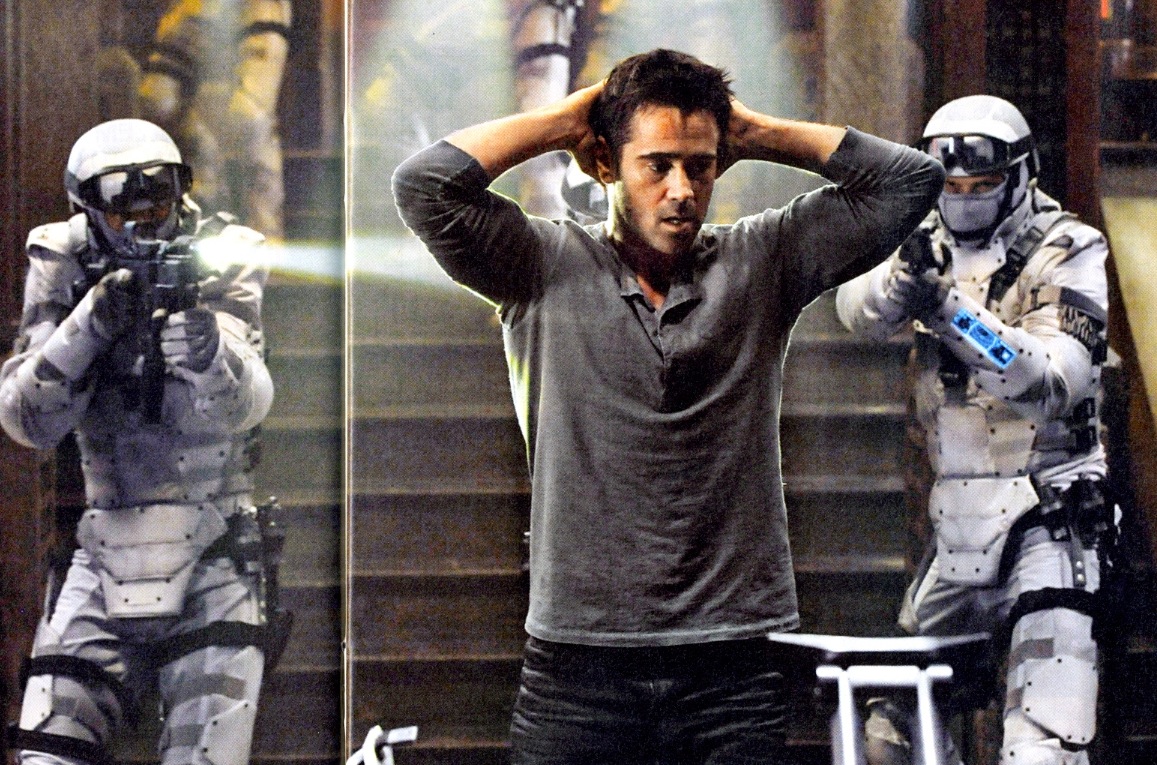 McClane (Star Trek actor John Cho, sporting a wild, bleached blonde do) runs the facility and personally assists Farrell with the process. But Rekall comes with one warning: You're not allowed to implant a memory that's actually true. Well, you can guess what happens next. Quaid's request to "become" a spy is denied when the machine goes haywire, due to a detection of truth. Before McClane can get answers out of Quaid, the Rekall center is infiltrated by a dozen robot and human police looking to bring Quaid down. The action sequence wowed audiences at San Diego, thanks to a wild series of gliding camera moves that follow Quaid has his inner killer turns on and beats the living daylights out of his opponents. Evidently, there's no CG trickery here—the filmmakers used the same techniques you see when a cam flies across the football field in an NFL game!
As far as I know, everything after this zippy camera move was new. The extended version of the scene sees Quaid escaping the Rekall Center through a duct and out into the open air of a futuristic metropolis. Then a sizzle reel of flashy imagery kicked in: Quaid running through a rainy, Blade Runner-esque slum; more of the flying cars and squeaky clean future city life; a vicious cat fight between Kate Beckinsale's Lori and Jessica Biel's Melina (which should bring smiles to those who know the original film); a vehicular crash/action scene atop a skyscraper/tower; and the meatiest of the shots, a quick dialogue between Quaid and Bryan Cranston's Vilos Cohaagen. Cohaagan was jabbing Quaid with a few threatening words, but they were barely audible over the screams Cranston received for just showing up.
Remakes will always make fans of the original nervous, but Total Recall may have enough imagination up its sleeve to make it feel like its own movie. Farrell isn't playing Ah-nuld (thankfully), and as we know from his diverse career, is fully capable of standing up and being the man. The brief shots of action we caught at the presentation made Farrell look like, for lack of a better phrase, a total badass, even amongst the movie's big scope. This movie may not take us to Mars, but from the quick reel of footage, it should end up taking us to enough other crazy places to make up for it.