NYCC 2011: 'Red Tails' Panel Offers Action-Packed Footage & Stories from a Real WWII Pilot

Sure, superheroes are the big sell at New York Comic-Con, but real-life heroes are none too shabby either. That's the message to take away from the NYCC panel for Red Tails, the upcoming George Lucas-produced, Anthony Hemingway film about the Tuskegee Airmen, the first African Americans to fly for the United States military in World War II.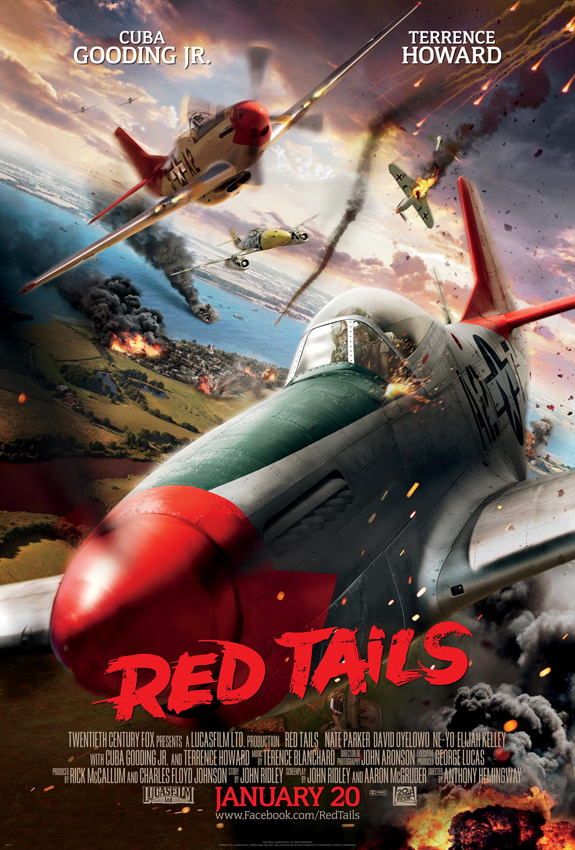 The panel was comprised of the film's co-writer, Aaron McGruder (who is famous for creating The Boondocks), and two cast members Michael B. Jordan (of Friday Night Lights fame) and Leslie Odom, Jr. (CSI: Miami), as well as graphic designer Craig Hammick (Star Trek). But the breakout highlight was Dr. Roscoe Brown, who himself was a real Tuskegee Airman who flew for the U.S. against the Nazis.
Brown commanded a good deal of the discussion, applying a helping of severity and history to the Lucasfilms production. Brown explained that as a child in the 1920s and '30s, he and his peers would read pulp magazines about World War I heroes—Flying Aces—and dream to be like them. The panel offered its audience a look at the Red Tails trailer, after which Brown remarked that the footage "takes [him] back fifty, sixty years, and [he's] young again."  
In addition to the trailer, attendees also got to see footage from the upcoming movie, in which Jordan's character goes head-to-head with a Nazi fighter plane, and becomes the first black soldier to take down an enemy flier.
Dr. Brown also expressed that although the triumphs of the Tuskegee Airmen were a step for civil rights, the problem was hardly rectified immediately. In returning to society after the war, Brown sought employment as an airline pilot, only to be turned away immediately solely for his race. This drove Brown to become better, and to develop a more versatile area of expertise. 
Although Brown's words were the most fascinating, the other men shared some interesting thoughts as well. Aaron McGruder explained that in order to write the movie well, he needed to "stop trying to make a movie about black heroes…[and to] step back from the enormity of the history…[and to] focus on the fun…and good storytelling."
The actors shared stories about a boot camp they endured to prepare for the roles, with which Brown and some other Tuskegee Airmen were involved. Brown joked about the cast members: "These guys were pretty soft when they started. It was our job to toughen 'em up." Brown eventually laid to rest his playful mockery and admitted how proud he was to be associated with the men involved in the film, and how glad he was that the movie was being made.
Although it may not have been the flashiest presentation at NYCC this year, it was certainly among those with the most heart and sincerity. Dr. Brown's addition to the panel reminded us where many stories come from: real history, about real people. He didn't just give us a history lesson, he gave us a reason to care about this movie, and possibly a better understanding of something many of us are fortunate enough to have not experienced firsthand.