NYCC 2011: 'Saw,' Writers Discuss Their Novel 'Black Light,' 'Piranha 3DD' and More!

What do you get when you combine the writing duo behind franchises like Saw and Piranha 3DD (Patrick Melton and Marcus Dunstan) with established thriller novelist Stephen Romano?
The answer is Black Light, a new paranormal thriller from the trio that splices a creepy ghost story with a pulpy detective story. At the center of the novel is Buck Carlsbad, a private eye with a shady backstory and the ability to communicate with the dead. Put him on bullet train and you've got the beginnings of the books intense, often cinematic story.
I got a chance to talk to the authors of the book about penning the novel, the freedom of writing prose, looking ahead to a big screen Black Light adaptation and everything else they've got in the works (yes, even Piranha 3DD):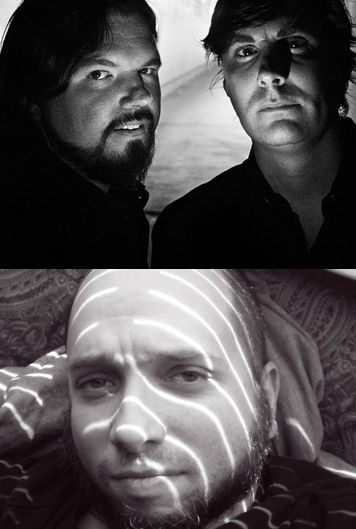 So the three of you wrote Black Light together—how did the idea come about and how did you all team up together to make it happen?
Patrick Melton: Basically, Marcus and I had this idea and we ended up having dinner with this editor, John Schoenfelder. He liked the idea of taking Hollywood screenwriters and matching them up with novelist and doing a book. So he asked us if we had any ideas that fall within the parameters of Mulholland [Books]. Not horror necessarily, but paranormal thrillers.
Stephen Romano: Suspense thrillers.
PM: Sort of pulp, crime novel edge. That's how we came up with Black Light. Then Stephen was brought in and the collaboration began.
Is the process of writing a novel similar to developing a screenplay?
PM: It's similar. We're used to going back-and-forth, but thankfully Stephen has a screenwriting background. He did the first Master of Horror. So he knows what it's like getting dumb notes from dumb people and we worked perfectly within that realm.
The thing is, since the editor came to us, it was a bit of reverse engineering. We started batting around ideas, putting down pages—it was a very abbreviated period because they liked the idea of it coming out on Halloween, because we usually have a Saw film coming out.
SR: We started working on the book in November. That's when we started talking about it. We didn't do the deal until January, but we had already written half the book on spec. We finished the book in four or five months.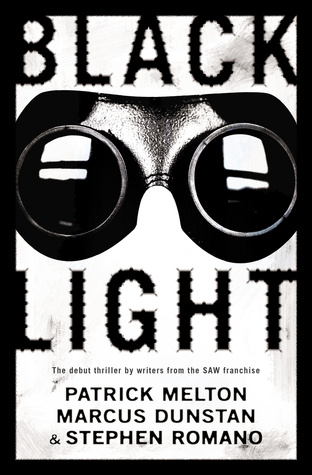 Where did the idea come from? The premise seems like a far cry from the Saw movies and some of your other work.
PM: This was actually the second idea we had after Feast. So we had Feast done, and at the time ghost stories were big—it was right at the beginning of the J-Horror period—but when we were done with Feast and got around to talking to our representatives, J-Horror was on the way out. That's when some of these gory, torture porn movies came en vogue, so we switched gears and started doing that. But this was the opportunity to get this out.
Marcus Dunstan: That's where Stephen comes in [laughs]!
PM: In terms of elements, we had the opportunity to work in creature horror, and this was supernatural, but wasn't confined to a screenplay's narrative limitations. 90 pages, 100 pages or what not. This could exist on a bigger palette. And it was nice to pull from the 9+ years of love for the ghost story and react to everything that had come prior. React to the J-Horror remakes, react to things that landed soft or landed well throughout our lives.
MD: …but trap it in a 400 mile per hour ride that's shaped like a gold coffin and multiply it times 9. Crank it up.
PM: And we're naturally drawn to the antihero, I think. So creating Buck as a very flawed individual, a hard ass, was very appealing to all of us. That goes back to our literature influences: Jim Thompson, Walter Mosley, like that. So naturally we said, 'let's do it first person, let's get into it, let's make him a bad, flawed motherf*cker.' And it worked.
When you first signed to do the book, it was announced that Black Light would be the first in a series. Is that still the plan?
SR: There are a lot of things in the book that could play into the other books, but we're just waiting to see how this one does. And we have a movie deal.
I was curious, because of your background, if a movie adaptation was always planned.
SR: You always hope for that.
PM: It was in the back of our minds to make it as cinematic as possible. It started as a screenplay, so it was always in its DNA. And as far as future books, this is the first in a series where we're defining the world as we want it. We had to create all the rules, which always as the feeling of an origin story. So it might seem like we set it up for a series, and it very well might be, but that's just us setting up the rules. But we just jump right into—he's been doing this for quite awhile—so we had to explain that.
How far along are you with bringing the book to the screen?
PM: We purposefully didn't show it to anyone within the industry until the book was done and printed and ready. So the first person we showed it to Mike DeLuca (The Social Network, Priest, The Sitter). And he said, "I love detective stories and I love trains and you put them both in one story!"
The ghost didn't come up.
PM: [Laughs] Of course not. So he's the man on board. It happened very recently, so we'll see what happens.
So what's the actual process of three guys writing a book. Do each of you have a specific role?
PM: We started with a treatment and then Stephen added to the treatment. Then we went into pages, everyone would respond—it was building from the beginning.
When Marcus and I started writing together, we didn't Feast together, but on set we had to do a page one rewrite of Highlander: The Source. We had to do it really quickly—so I did the first act and the third act and Marcus did the second act. But when you added my pages to his pages and it was a 145-page draft of Highlander 5. So…that doesn't always work. So we planned from the beginning and John kept us on track.
A good deal of Black Light takes place on a train—how many trains did you actually ride while writing?
SR: I've never been on a train in my life [laughs], and it was my idea to have it go 400 miles per hour too.
Is it refreshing to have the Saw films in your past and be tackling something totally different?
MD: Well, it's a step away from Saw's mechanism for terrifying and engaging. It's a different spectrum. Black Light could take place in that area between PG-13 and R if it wanted to, whereas Saw is built to be R. This is a man searching for his meaning. Perhaps his gift is a curse, perhaps he'll never know what happened to his parents, but he's willing to give little pieces of himself away for moments of information of his past in this world called the Black Light.
Is there something specific in the book you were glad to bring to live through a novel as opposed to on screen?
MD: I'll say, character development!
Ha! Are you saying your movies don't have character development?
PM: Here's the thing. When writing in the horror genre you're lucky if your movies going over 95 minutes. That really gives you one scene, one moment to define your character. Every once in awhile it's nice to write something with a little more meat on its bones.
What do you each have in the works for the future?
SR: I'm in rewrite right now on a novel for Simon & Schuster called Resurrection Express. It's a non-horror, but it's equally twisted and weird. I refer to it in the TV Guide summary way, as The Bourne Identity meets Mission: Impossible directed by Quentin Tarantino. It's a brutal, on-the-street chase thriller with exploding helicopters. It's going to be badass.
Patrick and Marcus, I know you have Piranha 3DD in the can, which looks like it'll hit in 2012…
PM: Yeah, you know it was never going to hit the original date anyway. It was very quick and there was a huge amount of effects work to do. Not enough time. Dimension is talking about January, but we've seen the move and it should be April. It's a total Spring Break movie. Just like the first one. It takes place a year later, down river. At a water park. It has the same sort of party vibe.
And then we have The Collection, which is the sequel to The Collector. We don't know when that's going to come out.
MD: It's in post right now and will be for a quite a awhile.
Are you writing anything at the moment?
MD: Uh, well…[Laughs]
PM: Yes, we came here from our current assignment.
MD: In Toronto. Top secret.
PM: And we're returning there tomorrow evening.
Is it horror?
PM: No. Well, kinda [laughs].
Black Light is available in stores and online now.