NYCC 2012: 'Carrie' Remake Footage Is Fiery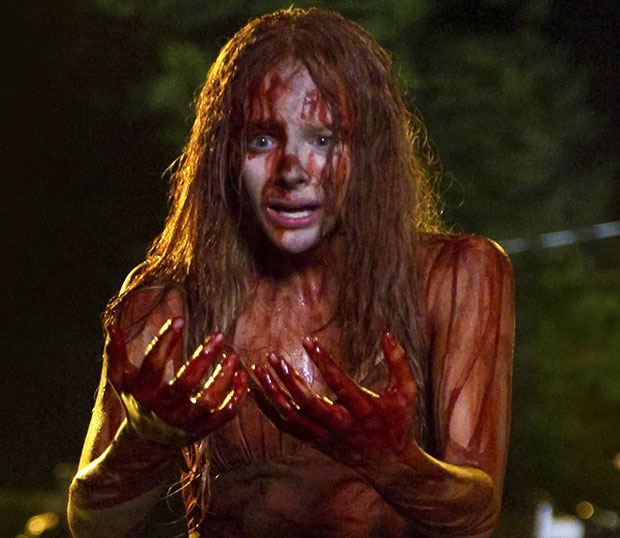 Whether or not you think Chloe Moretz is fit to play Stephen King's classic vengeful teenager or not, she's clearly doesn't care. The Carrie teaser trailer shown at New York Comic Con on Oct. 13 gives her an edge no matter what you think of the term "remake."
We start overlooking a small town, only to find that the high school is burning to the ground. As the camera speeds up and gets lower to the ground, we hear the voices of Carrie's mother (Julianne Moore) and Carrie herself, as the scenes of fire and destruction intensify. And just as we get to the center of the town, which is engulfed in flames, we find Carrie, glaring from underneath a curtain of blood, ready to seek vengeance on all who get in her way.
Look, Moretz is a self-professed "Happy girl," but most us are going to think twice before crossing her thanks to that haunting image.
Besides, if the Comic Conpanel proved anything it's that her age is the one thing we don't have room to complain about. Moore says that while Sissy Spacek's protrayal of the character is classic, Moretz makes it different in that she's "actually a teenager in a story about being a teenager." But if you ask Director Kimberly Pierce, Moretz might actually be too old. In fact, she told her so on set.
"Kim looked at me and said, 'You need to be younger,'" says Moretz. "And I was like, 'What do you mean? I thought the whole problem was I was too young!" she adds.
Moretz might also be of help in one element of the film that definitely wasn't seen in the book or the orignal. "It does include a social media element in one of the pranks," says Pierce. And just like that there are two complaints shot down: Moretz isn't too young and the film isn't simply a copy of the original.
Carrie hits theaters March 13, 2013.
[Photo Credit: Sony Pictures]
Follow Kelsea on Twitter @KelseaStahler
More:
Chloe Moretz: Terrifyingly Plain on the Set of the 'Carrie' Remake
Chloe Moretz Offered 'Carrie' Role: Is She the Right Choice?
It's the Stephen King Renaissance: 'The Reach' Headed to the Big Screen
From Our Partners:

'Paranormal Activity 4' Sneak Peek!
(Moviefone)

(Moviefone)