NYCC 2012: Sean Astin on Why Elijah Wood Has It Easy in 'The Hobbit' Trilogy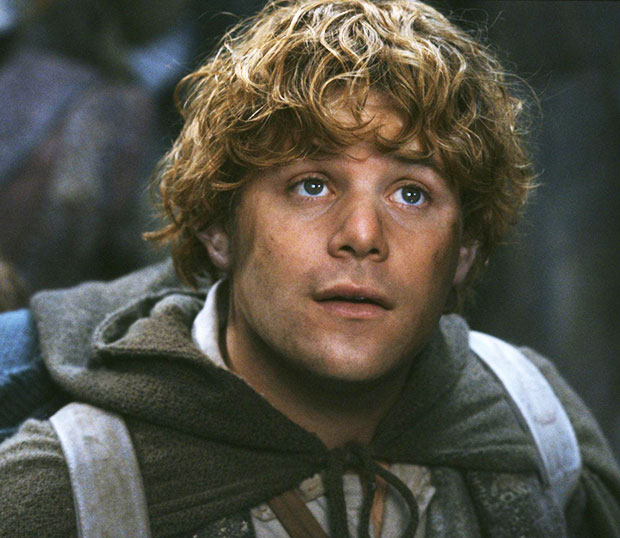 There are few people who serve as the connector between so many different rabid fan groups the way Sean Astin does. While most of us probably know him best as Samwise Gamgee from The Lord of the Rings trilogy, his face is also connected to memories of Goonies and, of course, Rudy. Luckily, for nerds of all kinds, Astin stopped by New York Comic Con to answer questions about his memorable works.
With the return of J.R.R. Tolkien fever, thanks to the upcoming Hobbit trilogy, The Lord of the Rings was still the hottest topic of his talk. And he's got a bone to pick with his most frequent co-star in the LOTR trilogy, Elijah Wood.
A hot topic among fans seems to be the nature of the faux hobbit feet both actors wore in all three movies. Apparently, there have been great advancements in fake feet technology for the new Hobbit series. ""The new and improved XLS BMW hobbit feet — hobbit feet 5 [holds up like iPhone like Steve Jobs]," says Astin. He's clearly a little jealous of Woods' luxury feet in his new Hobbit role. "Elijah says they're so comfortable. And I'm like 'piss off,'" laughs Astin.
He recalls the moment the original hobbit feet could have derailed the entire franchise. He was carrying Woods uphill on a steep incline, wearing the hobbit feet, which were glued on. "When you sweat, you start to slip around … and I thought 'I've got a $250 million franchise right here (points to his back),"said Astin.
Astin also waxed poetic about the magic of Tolkien. Though he didn't know a thing about the author or his works when he accepted the role, Astin ran straight to Barnes and Noble and was immediately moved by the words in Tolkien's books. "'Home.' It sounds like it feels. And that's all through the book," says Astin, remarking on the quality of the words Tolkien chooses. When he read the famous line, "Don't go, Mr. Frodo. Don't go where I can't follow,"he says, "Those words spoke to me and I wanted to say them outloud."
And thank God he did. Of course, while Astin doesn't have the luxury of experiencing the fancy new feet in the Hobbit movies, we certainly appreciate his commitment to the Nokia brick of fake feet when he was becoming Samwise Gamgee back then.
And for the Goonies fan in all of us, Astin added this nice end cap: "I guarantee 100 percent without fail, no questions about it, there will be a sequel to Goonies." Now, we're not sure if Astin can really promise that, but hey, the sentiment is a sweet one.
[Photo Credit: New Line]
More:
The Hobbit Is Front and Center in New 'Hobbit' Poster
Does 'The Hobbit' Risk George Lucas-ing the 'Lord of the Rings' Trilogy? — TRAILER
'The Hobbit' and Movies that Took a Really, Really, Really Long Time to Make
From Our Partners:

'Paranormal Activity 4' Sneak Peek!
(Moviefone)

(Moviefone)