NYCC 2012: Superheroes and Supervillians: They're Just Like Us! — GALLERY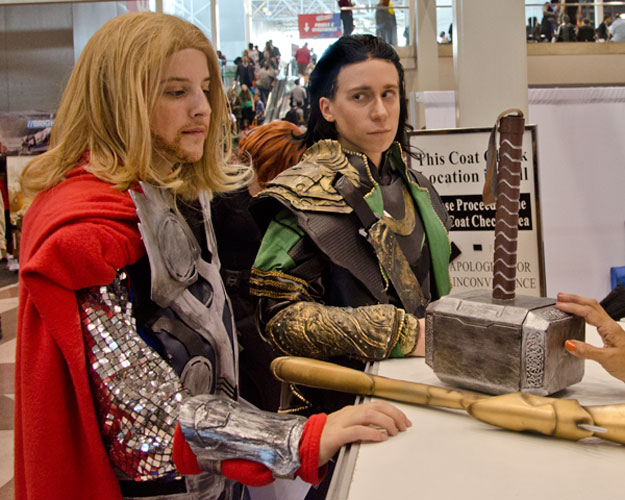 They battle evil and uphold justice. They don masks, costumes, and capes. They fly, shoot lasers, smash, wield truth lassos, talk to fish, and run really fast. They're superheroes. And as you can see, they're just like us.
Okay, maybe not for any of the reasons listed above, but trust me: we have more in common with superheroes than you think. If you happened to make it to this year's New York Comic Con, you might have happened upon a few heroically clad individuals performing less than heroic deeds. For instance, Batman getting lunch. Thor checking his coat. Deadpool enduring a pretty heavy bender (okay, that's kind of heroic).
In case you missed out on 2012's NYCC due to geographical inconveniences, previous engagements, or having a normal job, we've compiled a gallery of our favorite superheroes and villains caught on camera doing everyday things. They really are just like us, guys. Except for the truth lassos. Click below to see for yourself!
Superheroes and Supervillains: They're Just Like Us!
[Photo Credit: Samantha Xu]
More:
NYCC 2012: Coulson Lives! Clark Gregg To Star On Marvel's 'S.H.I.E.L.D.' TV Series
NYCC 2012: 'The Walking Dead' Panel Proves Little Ladies Love Chandler Riggs
NYCC 2012: Kevin Smith and the 'Comic Book Men' Cast Think the Nerds Have Finally Won