NYFF: 'Carnage' Is a Sandbox for Winslet, Foster, Reilly and Waltz to Play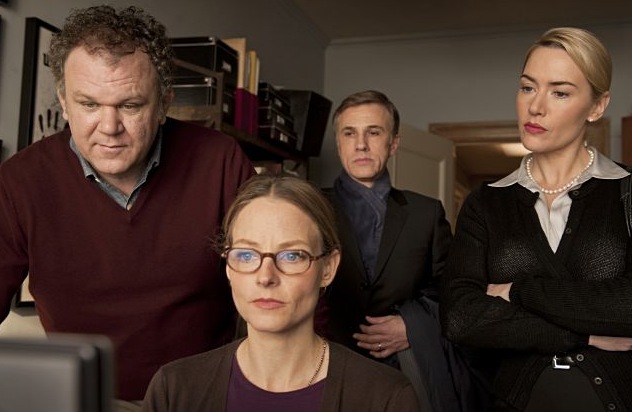 There's an inherent risk when adapting a play to screen, no matter how many Tonys it racked up on Broadway. Movies rely on "show, don't tell" cinematic techniques, while theatrical productions are all about the language. Even if it's top-notch writing, a play adaptation that feels too talky, too staged, can rub even the biggest theater lovers the wrong way.
So is the conundrum of the new film, Carnage, based on the award-winning play God of Carnage.
The film, set entirely in a Brooklyn apartment, paints a portrait of flaring emotions between two parent couples: The repressed Nancy (Kate Winslet) and her manic businessman husband Alan (Christoph Waltz) vs. the laid back shlub Michael (John C. Reilly) and his type-A wife Penelope (Jodie Foster). The warring duos are pitted against one another after Nancy and Alan's son smacks Michael and Penelope's son in the mouth with a stick. Unfortunately, the request for apologies opens a Pandora's Box filled with vehemence and philosophical debate. A few cocktails and no thoughts go unspoken.
The film was translated to screen by playwright Yasmina Reza and director Roman Polanski (Chinatown, Rosemary's Baby, The Ghost Writer) and their work appears faithful. Carnage is a 90 minute roller coaster—sharp dialogue zipping us up and down the emotional spectrum as the couples unwind and explode. Each character has their own cadence (Foster's Penelope moves and talks like a twitching chipmunk, while Waltz employs a slower, condescending swagger), but hushed moments are few and far between. Everyone wants the last word.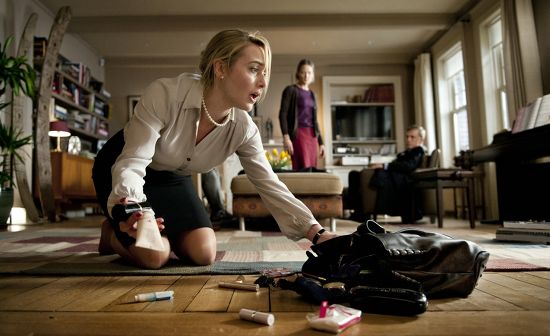 Committing to a heightened reality leaves Carnage feeling like a theatrical affair (which turned off many of the New York Film Festival-goers), but Polanski and his quartet of talented thespians work magic with the material. Foster's always been an understated actress and watching her come alive is a delight. She makes the smallest details—like opening and closing a refrigerator door—mean something. In a claustrophobic space, that's key. Reilly finds a balance between his dramatic films (Magnolia, The Hours) and his comedies (Talladega Nights, Step Brothers) and crafts the perfect pitiful putz. Waltz steals the show, radiating a complete distaste for the situation around him by bouncing back and forth between his cell phone and the real world. He knows he's a douchebag. He loves that he's a douchebag. Winslet is strong, but feels the least involved—that is, until she projectile vomits across the room and becomes completely unhinged.
Watching the quartet shout, glare, run around the apartment and face-off against one another is like watching a visceral dance. Polanski turns the boxed-in set into an obstacle course, gliding along with the actors as they move throughout the house and selecting anxiety-ridden shots to elevate the couples' argument. The cinematics escalate as the throw-down does, keeping shots simple and composed as the couples meet, then relying on near-Hitchcock style when heads start spinning.
After the screening of the film, many of the audience members around me asked, "why was that a movie?" Yes, Carnage is stagey, and that can be an obvious turn-off. But to that complaint I retort: Does every movie have to be like a movie? The film's theatrics are what make it unique, and watching stellar actors like Foster, Winslet, Reilly and Waltz engage each other with unadulterated acting is an exhilarating experience.
That's why it's a movie.
Read our previous New York Film Festival coverage: