'Nymphomaniac' Inspires a Look Back at Real Sex in Movies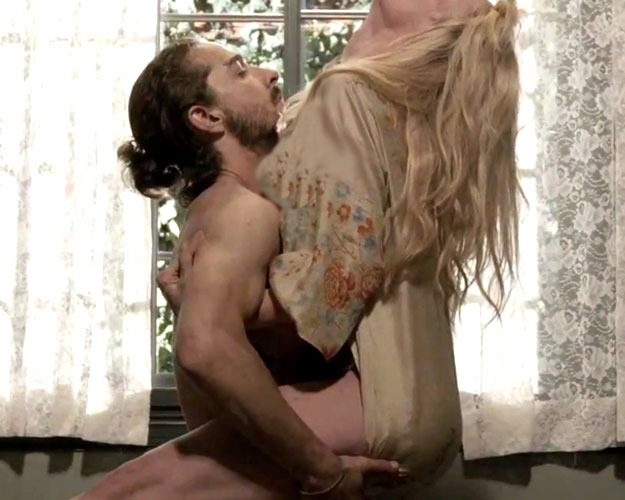 Chalk it up to years of physical romance consistently interrupted by Autobot vs. Decepticon warring, but Shia LaBeouf is antsy to make sweet, sweet love on the big screen.
During rounds for his new movie Lawless, the actor has been vocal on his readiness to engage in actual sex for his upcoming collaboration with provocateur Lars von Trier: the two-picture lovefest Nymphomaniac. Costarring Charlotte Gainsbourg and Stellan Skarsgard, the films follow Joe (Gainsbourg), a nymphomaniac, as she recounts her lengthy sexual history to an old man who takes the beaten down woman into his home. One assumes that at some point in her sexual journey, LaBeouf pops by to work his magic.
Today, The Hollywood Reporter announced that Jamie Bell (Billy Elliot, The Adventures of TinTin) and Danish actress Connie Nielsen (Boss) have also joined the cast. As LaBeouf has confirmed in multiple interviews, Nymphomaniac, which begins production this month, won't feature simulated sex. Mr. Von Trier wants reality, and has found a cast that's ready to go there.
The depiction of graphic sex acts in film has been rare, but Nymphomaniac isn't the first instance — even in Hollywood. Take a look back at our gallery of the few instances where actors got their freak on in the name of art:
See the List: A History of Real Sex in Movies
[Photo Credit: Parlophone]
More:
Shia LaBeouf Bares All in Sigur Rós Video
12 Hot (and Horrifying) TV Nude Scenes
Shia LaBeouf and Tom Hardy Are Slick, Old School Gangsters in 'Lawless' — TRAILER