'Oblivion' Tops the Box Office, While '42' Slides Into Second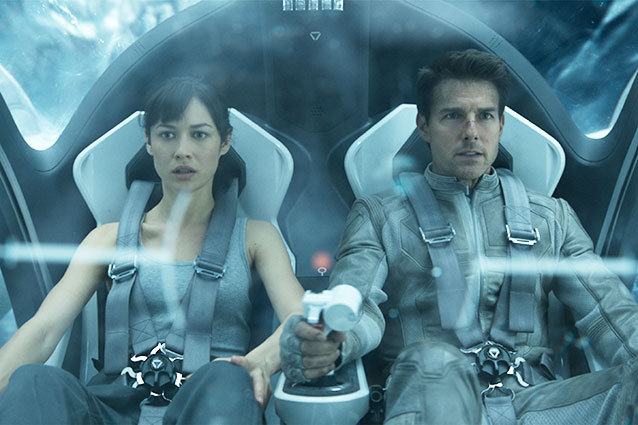 Universal's Oblivion starring Tom Cruise topped the weekend chart with a better-than-expected $38.2 million. The PG-13 science-fiction film, which also stars Morgan Freeman, was expected to earn in the $30 to $35 million range and with nearly $40 million this weekend easily took the top spot. It was also the number one film in the world this weekend with total worldwide estimated grosses reaching $150.2 million and had a solid hold overseas (-42%) where it is No.1 for the second weekend in a row and grossed $33.7 million in 60 territories.
Notably, this is the second highest domestic opening for Cruise outside of the Mission: Impossible franchise. IMAX was also strong taking in 14.4% of the weekend gross in North America opening on 323 domestic screens to a healthy $5.5 mil this April weekend, internationally, Oblivion in IMAX held in nicely on its second weekend, generating $1.6 mil; this bringing the international total to $6.0+ mil.
Warner Bros.' Jackie Robinson true-life sports biopic 42 holds strong as it continues to capitalize on terrific word-of-mouth dropping just 34% in its second weekend and swings hard for $18 million and a second place finish this weekend. The film has earned $54 million after just 10 days in release.
Third place goes to the Fox's The Croods which remains the number one family film in the marketplace in its fifth weekend of release as it generates an impressive $9.5 million, $154.9 million to date in North America and a whopping $274.5 million internationally.
Weinstein Co.'s horror entry Scary Movie V dropped 56% in its second weekend but managed to scare up another $6.3 million and $22.9 million through Sunday night.
Rounding out the Top 5 is the action hit G.I. Joe: Retaliation with $5.8 million in its fourth weekend and an impressive $111.2 million to date in North America.
Just outside of the Top 5 Focus Features' first wide release of The Place Beyond the Pines added 1,028 theaters and took an impressive $4,745,888 in nationwide release and a total take of $11.5 million.
Two impressive limited releases made their mark with IDP/Samuel Goldwyn's Home Run in just 381 theaters posting an impressive $1,623,032 and a per theater average of $4,260 (good enough for a twelfth place finish) and Lionsgate's Pantelion Films Filly Brown with an equally notable thirteenth place finish generating $1.363 million in just 381 theaters and the second best per-theater average of any film in the Top 20 of $7,250.
Despite a solid showing by Cruise, the overall weekend was down about 19% vs. the same weekend a year ago when Think Like a Man opened with $33.6 million and The Lucky One had a $22.5 million debut. YTD box office stand at $2.764 million (down 11.21% vs. 2012), but luckily Iron Man 3 is less than two weeks away and should start the summer movie season with a bang!
Follow Paul on Twitter @PDergarabedian
More: 
Tom Cruise Only Gets Hurt Handsomely and Here Are 7 Pics to Prove It
'Oblivion' Review: Let's Face It, Tom Cruise Is the Man
So, What Exactly is Happening in 'Oblivion'?  
---
From Our Partners:


Eva Longoria Bikinis on Spring Break (Celebuzz)


33 Child Stars: Where Are They Now? (Celebuzz)