Old Spice Guy Lands Role in 'Horrible Bosses', 'Chuck'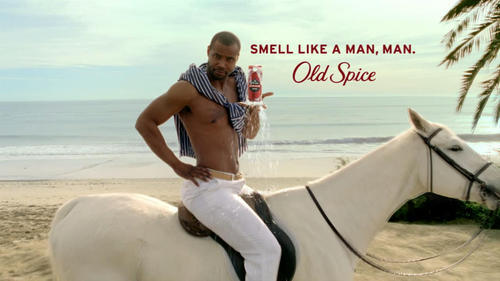 Old Spice spokesman and "man your man could smell like" Isiah Mustafa is making the move to roles that require him to wear a shirt (aw, man…). The 36-year-old actor revealed that he has been cast as a cop in the upcoming star-packed comedy Horrible Bosses, and as a "official CIA guy" on NBC action-comedy Chuck. The two new roles are the first to come from Mustafa's talent deal with NBC, which he signed back in June. Unfortunately, we're drawing a blank on any upcoming NBC projects that would require Mustafa to get on a horse, but we're sure that they'll come up with something. Equine Care 101 on Community, perhaps?
Mustafa was skyrocketed into internet celebrity in March after appearing as the centerpiece of Old Spice's absurd marketing campaign, which portrayed him as the tongue-in-cheek embodiment of all things manly. It worked, making Mustafa into a meme and raising Old Spice's sales by as much as 107%. Most recently, Mustafa released dozens of videos personally thanking fans, including celebrity admirers Ellen Degeneres and Perez Hilton. Unfortunately, Isiah Mustafa told the Hollywood Reporter that there are no more Old Spice commercials in the works, but with these TV and film appearances lined up, we should be saved from suffering that terrible disease of manliness withdrawal.
If you have no idea what I'm talking about, you can swan dive into the videos below.
Source: THR