Olivia Wilde Wants to Make More Documentaries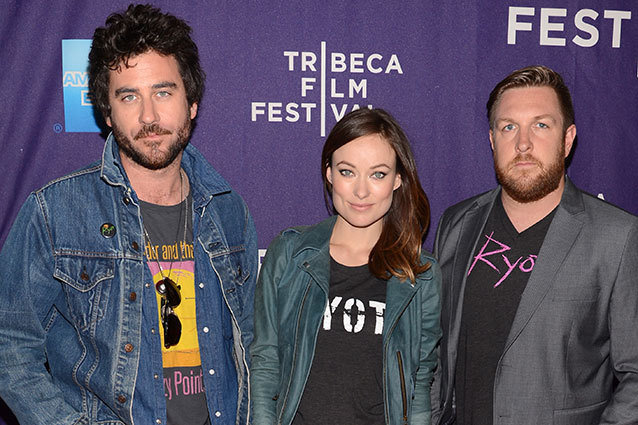 You probably know Olivia Wilde as Dr. Remy "Thirteen" Hadley, the bisexual doctor with Huntington's disease who worked for House. Or you recall her from the action movies TRON: Legacy or Cowboys & Aliens. But while Wilde is a talented actress, she also has a passion for getting behind the camera.
"I want to make more documentaries," Wilde tells Hollywood.com Tuesday at the Tribeca Film Festival premiere for her short documentary The Rider and The Storm, which she executive produced. "I want to work with these guys [the movie's directors David Darg and Bryn Mooser, both pictured with Wilde above] again."
Wilde is drawn to documentaries because of the way these films tell stories. "Documentaries are the most powerful ways to tell stories and to teach people about things that are happening in the world," she says.
The Rider and the Storm follows Timmy Brennan, a New York iron worker whose house was completely destroyed by Hurricane Sandy, as he trys to recover his lost possessions in the ruins of his home. "This film is so powerful, [so] it's really important for people to see," Wilde says. "And I want to make more films like that. I'm really lucky to be able to come on as a producer on this film and to work with amazing directors is just wonderful. It's an honor."
Brennan's story hit close to home for Wilde, who is a New Yorker and was actually in the city when the deadly storm touched land and devastated communities around New York and New Jersey. "[During] Hurricane Sandy I was in lower Manhattan without power and water," Wilde says. "We were cuddling with our dog to stay warm."
Thankfully for Wilde, losing power and water for a while is the worst she experienced of Sandy. "We had it easy compared to the people in Breezy Point, and in the Rockaways, and in Red Hook, and in many other communities," she says. "So I really wanted to help bring the world a story of what actually happened to people when Sandy hit. And these guys made an incredible film."
Follow Lindsey on Twitter @LDiMat.
More:
Mad Madness Covered — Gallery 
18 Reasons It's Impossible to Rood for 'Burt Wonderstone'
Review: 'Burt Wonderstone' Needs a Few More Tricks 
---
From Our Partners:


Eva Longoria Bikinis on Spring Break (Celebuzz)


33 Child Stars: Where Are They Now? (Celebuzz)