'Once Upon a Time' Keeps Josh Dallas Out of 'Thor 2': Who Will Take His Place?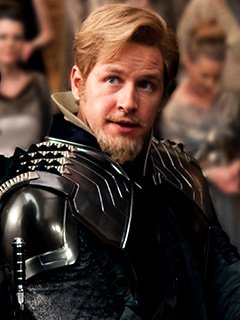 The life of an actor may seem glamorous, spending their days starring in movies and TV we love, walking the red carpet at extravagant events to fill the time in-between. But remember: it's still a job, and occasionally a Hollywood talent is faced with a difficult decision that could change the course of his or her career. In this case, it's Josh Dallas, regular on ABC's hit fantasy series Once Upon a Time and costar in the original Thor movie. With OUAT picked up for a second season and Thor 2 preparing to go into production, Dallas had a sticky situation on his hands. Unfortunately, he couldn't swing both.
According to Entertainment Weekly, Dallas has bowed out of Thor 2 comitting to his TV series over his role as the mighty warrior Fandral. Commenting on the decision, Dallas explained, "The timing wasn't right. I'm bummed about it because I had such a great experience and great time making the first film and was really excited about coming back. Marvel and Disney tried to make it work. But because of my commitment to Once Upon a Time, I was not going to be able to do both. So I'll have to hand the reins over to someone else. I love Marvel. I wish them all the best. I will certainly be first in line to see it."
Now Marvel is quickly searching for a replacement for its big screen mythological sequel, and according to Hollywood Reporter, they may be honing in on a name that surfaced during Thor casting. Chuck star Zachary Levi is reportedly being tapped to replace Dallas. It's an interesting twist of fate — back in 2010, Levi was origianlly courted for the role but had to decline due to his commitment to Chuck. Now, negotiations are imminent for the star to take on his originally lost role.
While it's a loss for Marvel to lose consistency between their two films, the role of Fandral wasn't huge in the first movie and Dallas has a much bigger part in Once Upon a Time. Careerwise, it's the right move, and now Levi is getting a chance at the big screen after many years starring in a cult hit. Win win for all involved.
="font-style:>
More:
'Iron Man 3' and 'Thor 2' Cast Villains
Idris Elba Will Return for 'Thor 2'