A Directioner Reacts to One Direction's Brand New Movie Poster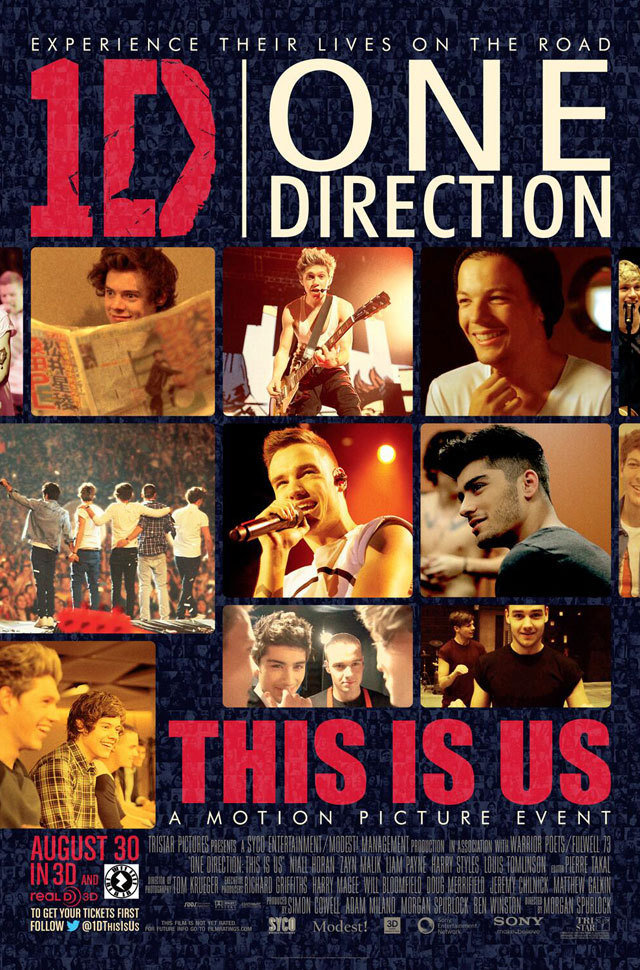 Due to the fact that everyone at Hollywood.com is over the age of 16 — believe it or not! — we had absolutely no idea how to react to the following news: British boy band One Direction has just released a brand new poster for their upcoming 3-D movie, One Direction: This Is Us. And because we did not want to deprive the Internet of the appropriate reaction that this Earth-shattering news clearly deserves, we've called up a One Direction expert to share her professional opinion.
Meet 13-year-old Sloane Osmers, an advid "Directioner" who has been eagerly supporting the boy band since they got their start on The UK's X Factor in 2010. With more than 57 items of One Direction memorabilia decorating each and every wall of her room — including a life-sized cutout of Niall Horan that "scares" her family's cleaning lady — Osmers is the perfect person to enlighten the Internet with how exciting this news should be.
Behold the uninterrupted, teary-eyed response, which lasted one minute and seven seconds:
"[Gasps] OH MY GOSH! [gasps] Oh my gosh! Look at Louis [Tomlinson], he looks SO cute theeeere! Oh my gooooosh! Oh my gosh! Oh okay, oh no, this is, no, I'm so, I just… oh my gosh, oh my gosh, oh my gooosh!!! Oh my gosh Leanne! Like, oh my goooosh! Oh my gosh! [Gasps] They're all so… noooo! I just can't, oh my goooosh! OH MY GOSH! This looks AMAZING! Oh my gosh. Like I'm… I'm going to cry again, this is like, no… no. This is my moment. This is my Beyoncé moment! Oh my gosh, oh my GOSH! This is amazing! I can't WAIT! Can August 30th come right now? Because like I'm going to cry. It's amazing, it's like PERFECT. They look amazing — as always! They look so cute! Oh my gosh Niall playing the electric guitar?! Oh my gosh! They look so cute! I LOVE it!"
There you have it, Internet. This is exactly how you should be responding after seeing the newest poster for the movie poster in which the five Brits will share their story — in 3-D! — in theaters across the country this summer. They will make billions of dollars while millions of girls — who were all born after 1999, you old fogie — scream and cry with overwhelming happiness.
Don't miss One Direction: This Is Us when it hits theaters Friday, August 30.
Follow Leanne on Twitter @LeanneAguilera
MORE:
Harry Styles: An Old Person's Guide To The One Direction Singer
'X Factor' Needs Another 1D: Why Fifth Harmony Isn't Done Just Yet
Taylor Swift Strolls With 'One Direction' Hunk Harry Styles
---
From Our Partners:


Eva Longoria Bikinis on Spring Break (Celebuzz)


33 Child Stars: Where Are They Now? (Celebuzz)