The Mysterious Bromance of Ryan Gosling and His 'Only God Forgives' Director Nicolas Winding Refn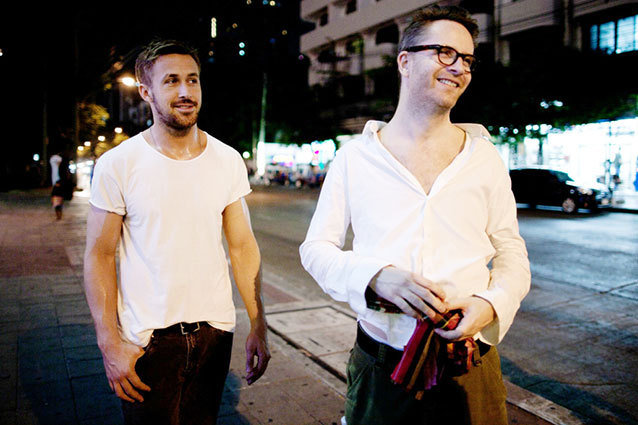 Warning: The following article contains major spoilers for the movie Only God Forgives.
When asked about the polarizing nature of Only God Forgives — a film whose grotesque violence, aggressive style, and underplayed characters have split audiences pretty rigidly intro groups of love and hate — Ryan Gosling called his new movie "kind of like a drug," explaining that "you either have a good trip or a bad trip."
Speaking about the film at a press conference on Tuesday, alongside director Nicolas Winding Refn and costars Kristin Scott Thomas, Vithaya Pansringarm, and Yayaying Rhatha Phongam, Gosling was happy to joke about the trippy essence and disturbing themes of his latest feature and eager to poke fun at filmmaker Refn, with whom he worked on the universally well-received 2011 film Drive. "You're not really sure of the film you're making," Gosling said, remarking on the organic unraveling of the story during the director's stringent process of chronological filming, "and neither is [Refn]."
Born from this organic practice was the eventual fate of Thomas' Crystal; the actress only first learned of the ultimate fate of her vindictive character after arriving in Bangkok for shooting. "The chronological order makes everything much suppler, much softer, much more open, and much more malleable. You can change everything so much. I got to Bangkok and somebody told me I was going to die! 'Oh, okay.'" After a laugh, Thomas continued, "It doesn't mean she doesn't have a satisfactory exit. And then other things happen to her afterwards, which, also, I was totally unprepared for."
Of course, Thomas was referring to Gosling's character sticking his hands into her corpse's dead womb… a machination that came from Gosling himself. "This is the first time we talked about it," Gosling joked, recounting how he came up with the idea. "Nicolas said, 'I think she should die. What do you want to do when you see your dead mother? Do you want to cry? Do you want to laugh?' As kind of a joke, I said, 'Maybe I'll cut her open and put my hands in her womb.' He was like, 'Cool.'" Reflecting on how the notion came to him, Gosling said, "I can't speak for what I was thinking then. It just felt like the right thing to do at the time."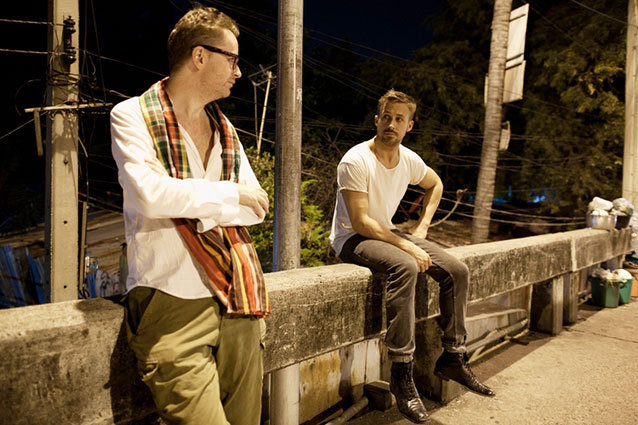 A visceral film that plods along with daunting, heavy scenes and only a few sporadic spots of dialogue, Gosling calls Only God Forgives "more of an experience than it was a story," differentiating the new project from the far more traditional narrative that was Drive. But a few similarities exist between the pictures, namely Refn's propensity to shoot Gosling with a special "favoritism" of sort.
When asked what causes him to shoot Gosling with such a unique auteuristic attention, Refn offered the tongue-in-cheek comment, "That's a very private question," before delving into the friendship he has developed with his two-time star since their meeting several years back. "The process of creating is a very delicate concept. When it clicks — there have been other people that I've worked with that I've enjoyed a lot — but [with Ryan], there's more of a similarity in certain things … I enjoy his company, we hang out. It's about trust."
Refn capped the speech of admiration with the wry remark, "I've only had one girlfriend, so I don't know what else there is." To which Gosling replied, "There's got to be a better way to say that." So clearly, there's a lot of interesting dynamics going on among this crew.
Follow Michael Arbeiter on Twitter @MichaelArbeiter | Follow hollywood.com on Twitter @hollywood_com
More:
'Only God Forgives' Review
Does Kristin Scott Thomas Outshine Ryan Gosling?
Strike Up Convo with Ryan Gosling!
---
From Our Partners


Battle of the Bikini Bodies (Celebuzz)


Complete Guide to Strippers in Movies and TV (Vh1)