Open Your Heart with 'Joyful Noise' Trailer
Ah, the melding of generations via music. Is there nothing more touching? Maybe this. Or this. Probably not this.
In any event, Joyful Noise will be moving. It'll move you. Move you right out of your state of cynicism into a world of love. Love for all people, love for song, love for love itself. And isn't that the trust love of all?
Queen Latifah and Dolly Parton (YUP!) head this emotion picture about the triumph of the power of gospel through different generations' music. Latifah and Parton team up to create a winning gospel choir, and are thwarted, and then aided, by Parton's grandson, who is a rambunctious ragamuffin, but quite the singer. Watch the trailer here at Apple and defy all odds by holding onto your deep hate. I bet you can't. I bet a thousand sheqels.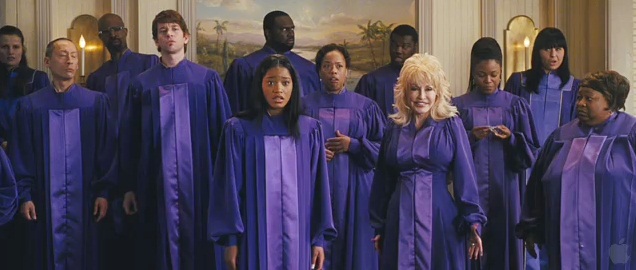 Source: Apple