Oscar Pool Cheats: Six Ways to Game the System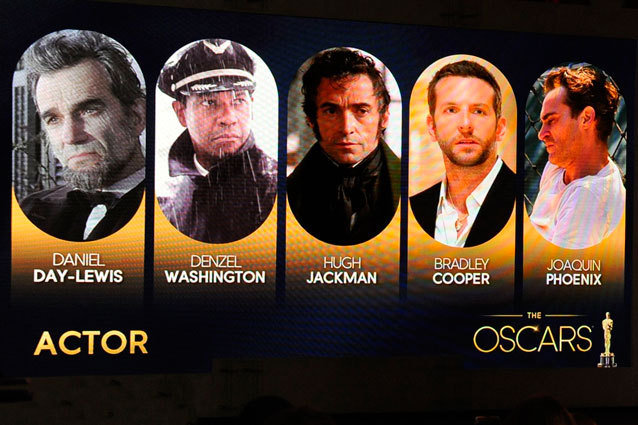 It's a tough year for predicting the Oscars, but that doesn't mean your friends aren't pressuring you to join in with their Oscar pool leading up to the ceremony. Of course, with nine movies in the Best Picture category, and a surplus of talent in every other category, it's going to be a hard year to pick your horses (even if you did manage to see all the nominated pics). But we're down to the wire, the awards are this weekend, and you'd better start making some judgment calls. Don't phone Miss Cleo or put your potentially psychic cat in front of an old Ouija board, just use these handy cheats we picked up thanks to the last 25 years of Oscar-winners and the simple wonder of patterns and (believe it or not) math! (See, they do serve a purpose!)
RELATED: Too Pretty For Oscars? Is There a Male Double-Standard?
Cheat 1: Picking the Best Animated Feature
Rule: Is a Pixar movie nominated? That's Your Guy (or Gal!). Pixar movies have been nominated eight times for Best Animated Feature Oscars, and only twice has it not paid off. The first time, someone screwed up and gave the award to Shrek over Monsters Inc. (we'll give them a break, it was the first year the award existed). And when Cars was nominated in 2006, it was rightly bested by Happy Feet. But every other time, the Pixar movie took the cake. 
Advice: Bet on Brave (Wreck It Ralph is a faux-Pixar flick, don't be fooled!)
Cheat 2: Nab the Low-Hanging Fruit in Costume Design
Rule: Pick the Vet Who's Working in Their Go-to Genre. Colleen Atwood is one of the most decorated costume designers in Hollywood. The woman is so good at what she does, she managed to make Alice in Wonderland eke by into Oscar-winning movie territory. This year, she's nominated for the equally fantastical blockbuster Snow White and the Huntsman in a category of mostly first time nominees, and one second time nominee who was bested by Atwood back in 2005 (sorry, Jaqueline Durran, costumer of many Keira Knightley movies). 
Advice: Just go with the vet, Miss Colleen Atwood.
RELATED: How to Watch All The Oscar-Nominated Films
Cheat 3: Origins of a Best Actress Winner
Rule: Southern Belles Are the Apple of Oscar's Eye. There aren't many factors that tie Best Actress winners of past years to one another, but one pattern seems to stick out: women from the South tend to go far. This year, the nominees hail from The South, California, Australia, and France, and if you're game for this regional cheat, the South is your spot. Of the 12 winners of the past 25 years who hail from those regions, half were from the South. 
Advice: Put your money on Kentucky's pride Jennifer Lawrence, or Louisana's little jewel Quvenzhane Wallis.
Cheat 4: Editing, The Tough Award Made Easy
Rule: Admit You Know Nothing About Editing, and Just Use the Numbers. The average Oscar-viewer may think they've got this section on lock, but it takes some serious attention to detail to predict a winner in this category. That's why, we've got some numbers for you: 18 of the past 25 winners were solo-editors instead of editing duos and trios, which makes Silver Linings Playbook (John Cassidy and Crispin Struthers) and Zero Dark Thirty (Dylan Tichener and William Goldenberg) gambles. In addition, only three of the past 25 editing award winners have been about historical figures, so Lincoln might not be a safe bet either.
Advice: Based on math alone, Life of Pi and Argo are safer bets.
RELATED: 2013 Oscar Nominations: Complete List! 
Cheat 5: Oscar Loves a Married Director
Rule: Lean Towards Directors in Marital Bliss. (Which is the opposite of my best dating advice.) Nineteen out of the past 25 Best Director winners were married when they won their Oscars. That leaves a smattering of folks to fill out the Single and Divorced categories. 
Advice: Pick a married guy. That leaves Michael Haneke (Amour), Steven Spielberg (Lincoln), or Ang Lee (Life of Pi). 
Cheat 6: Best of the Best Actors
Rule: Daniel Day-Lewis (or The Lead in a True Story). Of the possible character leads represented by this year's crop of nominees, the lead in a true story has proved to be most successful for Best Actor nominees, with nine out of 25 winners. The second best category is actors who starred in psychological/addiction-based dramas, but that only extends to The Master's Joaquin Phoenix, who burned Hollywood with his insane rapper persona for I'm Still Here, and Denzel Washington, who was in that awful movie Flight. Add to this that the man nominated for playing a real life lead from a very true story is two-time Best Actor Oscar winner Daniel Day-Lewis, and you've got yourself a no-brainer.
Advice: Always go with Daniel Day-Lewis. Always. 
Of course, these are just short cuts. The best way to win your Oscar ballot is to, like, actually watch all the movies. It's tough, I know, but it's just a thought!
Follow Kelsea on Twitter @KelseaStahler
[Photo Credit: Jennifer Graylock/FilmMagic]
---
From Our Partners:


25 Forgotten Celebrity Crushes of the '90s (Vh1)


30 Stars Who Have Gone Topless (Celebuzz)