Too Pretty for Oscar Gold: Is There a Male Double-Standard in Hollywood?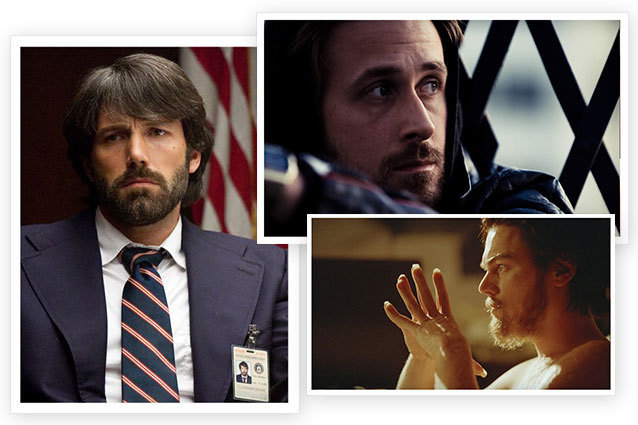 It's really easy to talk about the issues that plague women in Hollywood. Why? Because there are so many steps that need to be taken before women and men have equal footing in the industry (or pretty much, you know, anywhere in life). But there may be instances in which Hollywood's obsession with female beauty benefits them: The Oscars. It's no industry secret that if a woman (especially a beautiful one) drastically changes her image for a dramatic role, she's almost assured to be in the running for Best Actress.
What happens, though, when men held in similar esteem downgrade their looks for a leading role? Crickets, mostly. In fact, men who are often considered beautiful by society (read: women and gay men) have a mighty hard time getting their names on the winner's envelope when the Best Actor announcement comes around. So the question begs: does the Academy have a double standard on its hands? It sure seems that way.
Or perhaps it goes back to the perception of women. "Women are supposed to be admired for what they look like," Linda Mizejewski, a professor of Women's, Gender, and Sexuality Studies at Ohio State University, says. "But if a man is admired for what he looks like, it's suspicious."
Does this mean, then, that a looks-based value system creates such a double standard? Gasp! Impossible! Only it's completely logical when you break it down: our society places an incredibly high value on female beauty, but peg a veritable smörgåsbord of "weak" traits as distinctly feminine. As Mizejewski says, we can value women for their looks, but a man is "feminized" as soon as we consider his beauty a valuable asset. In the less-than-immortal-but-still-terribly-apt words of "What It Feels Like For A Girl" by Madonna, "Girls can wear jeans and cut their hair short / Wear shirts and boots / 'Cause it's okay to be a boy / But for a boy to look like a girl is degrading / 'Cause you think that being a girl is degrading."
If you look at the past 10 years, the Best Actress category is rife with women who have altered (sometimes quite drastically) their sexy image in the name of nailing the character: Charlize Theron in Monster. Nicole Kidman in The Hours. Kate Winslet in The Reader. Marion Cotillard in La Vie En Rose. Hilary Swank in Million Dollar Baby AND Boys Don't Cry. Heck even Meryl Streep did it for The Iron Lady. And that doesn't even include the bevy of women that underwent major transformations who were simply nominated (Hello, Albert Nobbs).
RELATED: Why 2012 Was Not The Year of The Woman
While it is safe to say that the majority of these performances were worthy of their accolades and awards, the fact that these women undermined traditional beauty on the big screen is no doubt a large reason why they get so much acclaim. "For women in movies, their main job is to look good. That's the standard expectation." says Mizejewski. The professor suggests that when these women go against the grain and are willing to drop the glamor, "we pay a lot more attention to that as 'serious acting.'"
But how many men have been given the same treatment in the Best Actor category? Look at those leading men who haven't won a Best Actor Oscar but are widely considered to be incredibly nice to look at in their face and body regions: Brad Pitt, Leonardo DiCaprio, Johnny Depp, Christian Bale, Michael Fassbender, and Ryan Gosling. Similarly to the women mentioned above, every single one of these men have gone to extensive lengths to either downplay or cover-up their pretty boy looks in the name of methodical acting. Yet they've all been left out of the nomination pool when the big dance comes to town.
The men listed are not just attractive — many of them are straight-up locker fodder. They're not just handsome (like recent Oscar winners Colin Firth and Jean Dujardin), they're beautiful. They're pretty boys who have been pinned onto the walls of screaming and hysterical fans (often of the teen girl variety) for at least part of their careers. With that level of fandom fueling your career, it's often difficult to be considered a contender. "People always tend to take you less seriously if you're really, really good looking," says Professor Will Akers, film department chair at Belmont University and author of Your Screenplay Sucks: 100 Ways To Make It Great.  Especially in a world as superficial as Hollywood, "because people will assume you got your success just because you're handsome."
The stigma lies between whether or not the audience considers these men "actors' actors" or "movie stars," a differentiation that seems quite defined by looks itself. "Being a 'movie star' means being handsome and interesting on screen," Akers says. An actors' actor, on the other hand, is someone who provides less box office bang, and more artful storytelling unconcerned with the masses' bucks.
It's a problem that plagued Pitt following his Oscar-nominated turn in 12 Monkeys. A perma-topper on many a person's Sexiest Man Ever list, Pitt has always been better suited for character work rather than the mushy leading man territory he frequently falls into. Many laud Pitt's performance in 12 Monkeys as one of his best, and felt he was snubbed in his loss to Kevin Spacey that year. But it seems as though the stigma attached to Pitt's pretty boy good looks is almost subconsciously ingrained. "As soon as you say Brad Pitt, you think 'well he's just the most handsome man on the planet. He's definitely a movie star [as opposed to an actors' actor],'" says Akers. "But that's a stupid thing to say, because he's such a gifted actor." It's important to look at his body of work rather than, say, his body.
RELATED: 10 Actors Who Won Oscars For The Wrong Movies
But perhaps the most snubbed actor of all is DiCaprio, who has tried in vain to scrub away his image as teen dream pretty boy. He's the Susan Lucci of the Oscars. Thanks to Titanic, we'll probably never let go (to make up for the fact that Rose did) of 90s-era DiCaprio. And maybe Oscar voters can't either. DiCaprio is widely regarded as one of the best actors in the industry. His work in The Aviator and Blood Diamond earned him nominations, but he was shut out of a nod on The Departed (perhaps the most shocking snub of all), Revolutionary Road, Gangs Of New York, and Catch Me If You Can. Losses all around. No wonder he packed on the play-doh for J. Edgar. It's almost as if the way in which women (and some men, too) objectified him sexually as he came up in the business has left a permanent mark on his back. 
Look at Albert Finney or Cary Grant — even a Peter O'Toole — all widely-regarded actors who never took home the gold, despite their attempts. And when you look at someone like Jeff Bridges — a veritable force in the industry over the past 40 years — it seems absurd that it took him until 2010 to nab an Oscar of his very own. It wasn't until his face caught up to the slightly grizzled characters he was born to play that the Academy finally took notice. It's as if shiny pretty things blind them, and they can only see the talent after the glow has dulled. For men, it's get old and prosper (compared to women, where the goal is to stay young forever). 
When examining the Best Actor winners from the past 10 years — Adrien Brody, Sean Penn, Jamie Foxx, Philip Seymour Hoffman, Forest Whitaker, Daniel Day-Lewis, Sean Penn (again!), Jeff Bridges, Firth, and Dujardin — all are certainly handsome in their own right, but are hardly pretty boy heartthrobs (even if Firth will always be Mr. Darcy to us). Some have described their looks as classic, Romanesque, hard-worn, or even ugly. Nary a pretty boy in the bunch.
But what makes a pretty boy? "Someone with somewhat effeminate features: hairless [body] but with good hair, dimples but with chiseled cheekbones, nice eyes with full eyelashes, and slender but with strapping shoulders," says James Ramey, director of the Fusion Fashion Show competition in New York City. And there's the buzz word, folks: effeminate. The word is widely characterized as a being derogatory in nature (just check any dictionary), which is not only offensive to women (what's wrong with being like a lady?), but also gives the Sean Penns and Jeff Bridges and Forest Whitakers of the world a bit of an advantage — at least in perception. "It's OK for [a woman] to just have value for her looks, but for a man to have value for his looks, it sounds like he's feminized … and to be pretty is to be feminine, which is a lower status," says Mizejewski. And if the past Best Actor and Best Actress winners prove anything, it's that the Oscars love a face with character and distinct qualities that carry emotional weight differently than their pretty counterparts.
RELATED: Leonardo DiCaprio To Take 'Long, Long Break' From Acting
It is probably safe to say that Ben Affleck wasn't snubbed in the Oscar's Best Director category because of his six-pack abs — no matter how much Fox News might try to tell you otherwise. But it's interesting to think that an industry so integral in fostering society's obsession with beauty and perfection — and one that all but demands idolatry from its fans — would then shun those that possess both talent and looks. Sure it's easy to demand a separation of the two in the name of awarding the most worthy, but is it possible? Especially when there's so much stacked up against those that fall on the other side of the 'attractive' line.
It's a superficial problem that befalls incredibly successful, attractive men for a seemingly superficial thing (awards). So should anyone care? Well, if we're not constantly trying to hold ourselves to a higher and fairer standard in all aspects of life, how are we supposed to find fairness across the board? Maybe when we stop associating 'pretty' with 'femininity' and in turn that with 'weakness,' society will have made a step in the right direction overall. More equality is never a bad thing.
Do you think there's a double standard? Let us know in the comments.
[Photo Credit: Hunting Lane Films; Miramax; Warner Bros]
Follow Alicia On Twitter @Alicialutes
---
From Our Partners:


40 Most Revealing See-Through Red Carpet Looks (Vh1)


33 Child Stars: Where Are They Now? (Celebuzz)
---
Oscars 2013 Special Coverage
---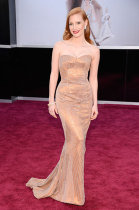 Oscars 2013 Red Carpet Arrivals: PICS!
• We Predict the Winners: Do You Agree?
• 15 Oscar-Winning Nude Scenes
• The Worst Best Picture Winner Ever
• Oscar's Problem With Pretty Boys
• Why Stars Should Fear Seth MacFarlane
• Oscars 2013: The Full Winners List
• The Winner, According to You