Oscar Isaac Is Sad and Cold in New 'Inside Llewyn Davis' Trailer
With a guitar in one hand and an orange tabby cat in the other, folk singer Llewyn Davis (Oscar Isaac) sets out to conquer New York City's music scene in 1961. Or — maybe more accurately from the looks of the new trailer for Inside Llewyn Davis — survive it. 
The trailer for the Coen Bros' latest begins with Llewyn recounting his late music partner's suicide (by jumping off the George Washington Bridge), and somehow things only get more depressing from there. From the look of it, Llewyn is unlucky in not only his career but also in love, shelter, and outerwear. And his struggles are heightened through the film's color palette — Llewyn is literally and figuratively blue. The bluescale sets the tone by adding a harsh, cold sheen to the city. But hey, at least he's got a cat!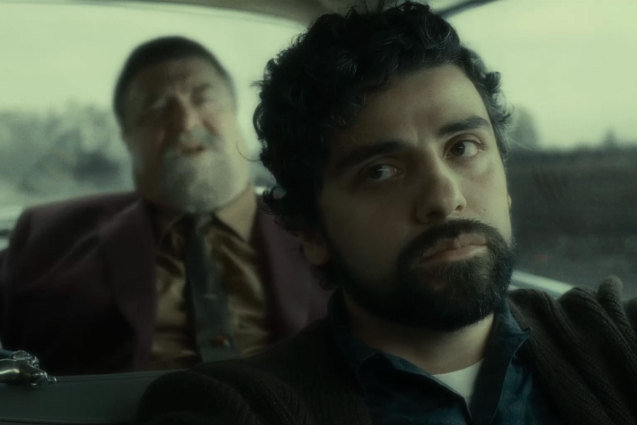 This new trailer also allows us to hear more of the film's score, created by Grammy winner and oft Coen collaborator T Bone Burnett as well as Marcus Mumford (of the English folk band Mumford & Sons). Unfortunately, our glimpses of Justin Timberlake and his goofy beard are few and far between. I, for one, am eager to see how Timberlake benefits from the Coens' direction — if the quick shots of his wide eyes and cheesy grins are any indication, Timberlake's in-the-dark Jim (husband of Carey Mulligan's Jean) will be fun to watch amid all the cold, blue melancholy. 
More:
Hear the Songs Covered on the 'Inside Llewyn Davis' Soundtrack 
Man, New York Seems Different in 'Inside Llewyn Davis' Trailer 
6 Reasons 'Llewyn Davis' Is Quintessential Coen Bros
---
From Our Partners:


40 Most Revealing See-Through Red Carpet Looks (Vh1)


15 Stars Share Secrets of their Sex Lives (Celebuzz)